This Weekend: Russian Festival and Pop Art Show
Thursday, February 20, 2020
Service Change Reminder: Starting February 22, 2020, the San Francisco Municipal Transportation Agency (SFMTA) is making service changes to improve Muni service. These changes will improve reliability and connections, reduce crowding and provide one-seat rides for weekend early morning Metro service with bus substitutions. Affected routes include the J, KT, L, M and N Metro lines, 7 Haight-Noriega, 23 Monterey, 1AX, 1BX, 31AX, 31BX, 38AX, and 38BX. For more details, visit our project page.
Events: There are a plethora of events, large and small, taking place throughout this coming weekend. Take in a free show by the San Francisco Chamber Orchestra at the Herbst Theater on Friday evening, February 21, Take the family out for an education fix on Saturday during the weekly free de Young Museum Day for Bay Area residents or the Cal Academy of Science's Neighborhood Free Days. Be sure to visit the Academy's website to make sure you live in a neighborhood being offered the free visit or to plan ahead for when your neighborhood is on the docket. Those looking to get into the Mardi Gras spirit can head up to North Beach on Saturday for the Mardi Gras Second Line March beginning at North Star Cafe. Throughout the weekend in Pacific Heights the annual Russian Festival will return to celebrate the Russian American experience and, in SoMa, pop culture art fans will have three days to enjoy various works of pop art from some of the world's best-known franchises. Read more about our featured events below.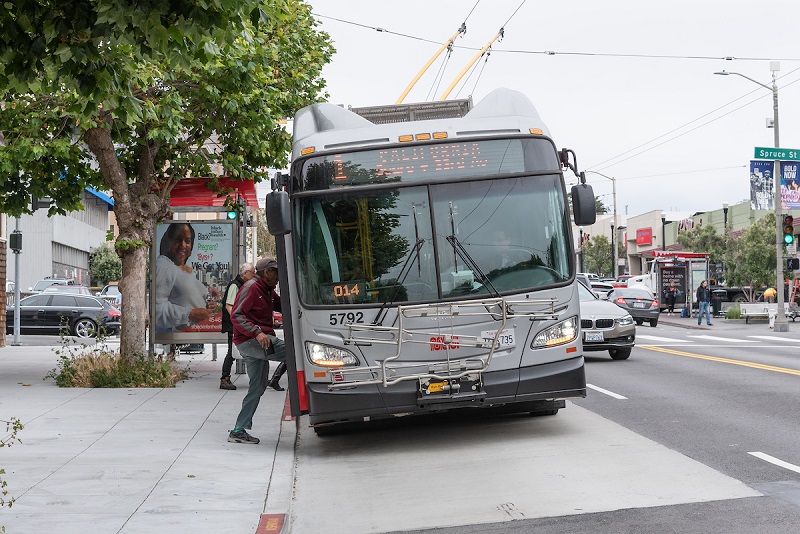 The 1 California will take riders heading to the Russian Festival to within a short walk of the event on Sutter Street. Photo: SFMTA Archive
Russian Festival
Friday-Sunday, Various times
Pacific Heights
Piroshki, borsch, and flavored vodkas, oh my!  Those are just a few of the highlights of the celebration of the Russian American that is the annual Russian Festival. Over the course of three days at the San Francisco Russian Center in Lower Pacific Heights, attendees will be treated to folk song and dance, ballet performances and much more.
---
How to Get There on Muni: The 1 California, 2 Sutter/Clement, 3 Jackson, 22 Fillmore, 24 Divisadero, 38 Geary, 38R Geary Rapid and the 43 Masonic routes all have stops within easy walking distance of the event.
Muni Service Notes: There are no planned service changes for this event.
Pop Culture Art Show
Friday-Sunday, Various times
SoMa
Fans of pop culture art or perhaps a fan of such franchises as Harry Potter or Star Wars should set aside some time throughout this weekend to head downtown for the free Pop Culture Art Con at the Palace Hotel. The show will feature nationally-recognized artists and their works showcasing characters and scenes from Disney, Marvel and DC Comics, the aforementioned Harry Potter and Star Wars franchises and much more. 
How to Get There on Muni: Riders may utilize an Muni Metro line to downtown, the F Market and Wharves Line, any Market Street bus route as well as the 8 Bayshore, 10 Townsend, 12 Folsom/Pacific, 14 Mission, 14R Mission Rapid, 25 Treasure Island, 30 Stockton or 45 Union/Stockton routes to near the event.
Muni Service Notes: There are no planned service changes for this event.
Remember that you can take Muni for the entire day for a single $5 fare. The new $5 Day Pass, available on MuniMobile®, is part of Muni's recent fare changes. The pass is intended to encourage a safe, convenient way to pay your fare and quickly board Muni vehicles, which reduces overall travel time for everyone. The $5 Day Pass is Muni bus, rail and historic streetcars only.
"On Tap" gives you a heads up about the big events in town and what Muni routes and lines will get you to the party. Look for this feature to be posted usually on Thursdays for a look ahead to the weekend. Check out our Weekend Traffic & Transit Advisory for more details.