Health Emergency Update
On Friday, March 6, at 4:30 pm, Mayor London N. Breed, the San Francisco Department of Public Health and the Department of Emergency Management announced new recommendations for San Francisco to reduce the spread of coronavirus (COVID-19) in the community. 
These recommendations include cancelling or postponing non-essential large gatherings and community events.
As recommended, Livable City is officially cancelling the first four Sunday Streets events in 2020.
SFMTA is proud to be the primary City sponsor of Livable City's annual Sunday Streets program. 
Sunday Streets support the transit first core value of the SFMTA Strategic Plan by promoting more opportunities for biking, walking, and showcasing transit. These once-a-month car-free occasions also promote healthy lifestyles and enjoyment of our public spaces and streets, increasing overall health and quality of life for San Franciscans.
The Sunday Streets season runs March through October spanning 10 events throughout the city. As needed, SFMTA staff will be on hand to share relevant project updates and information on multimodal transportation options.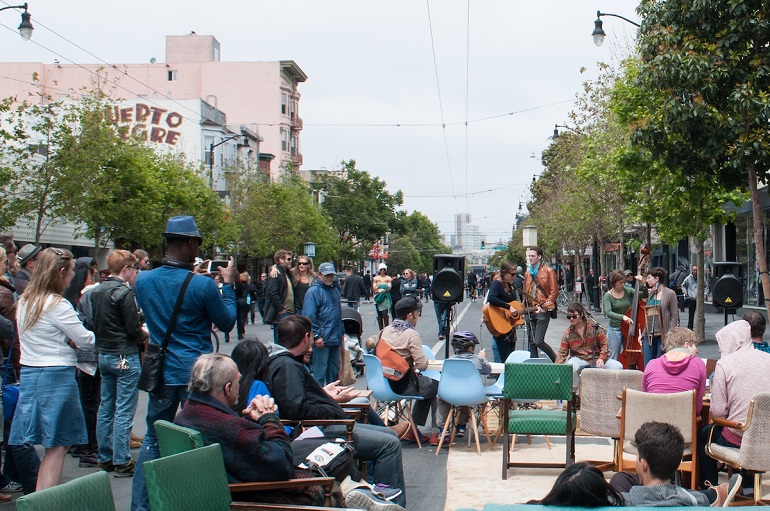 2020 Schedule and Temporary Service Changes
The following pages contain information regarding event details and service impacts for each Sunday Streets celebration in 2020. These pages will be updated as event details are finalized. Please check each of these pages for the latest information.
March 8: Mission (canceled)
March 29: Excelsior (canceled)
April 19: Tenderloin (canceled)
May 3: Bayview/Dogpatch (canceled)
June 7: Sunset/Golden Gate Park
June 21: TBD
July 19: Mission 
August 23: SoMa
September 13: Tenderloin
September 27: Western Addition
October 28: Excelsior