Great Highway and Outer Sunset Traffic Management Project
Note from 12/4/2020: Project webpage is in development. Please sign up for the project email list under "Receive Updates" to stay updated.
Project Introduction
Background: Car-free Upper Great Highway
In April 2020, as part of the City's COVID-19 response efforts, San Francisco temporarily repurposed the Upper Great Highway to be a car-free street that prioritizes families, bicycles, and pedestrians. The emergency repurposing of the roadway has created an unrivaled and scenic public space for thousands of people of every age, race, and gender to have expanded opportunities for physically distanced recreation and essential trips during the COVID-19 pandemic.
While this emergency closure is in place, the SFMTA is taking actions to managing the safety and use of the streets affected by the closure. The SFMTA has installed signs, traffic delineators, speed tables and other measures at over 20 locations in the Outer Sunset to manage traffic on local streets and redirect traffic to routes such as 19th Avenue and Sunset Boulevard. In the weeks ahead, the SFMTA plans to collect additional data and to install additional traffic management tools as part of the Great Highway and Outer Sunset Traffic Management Project.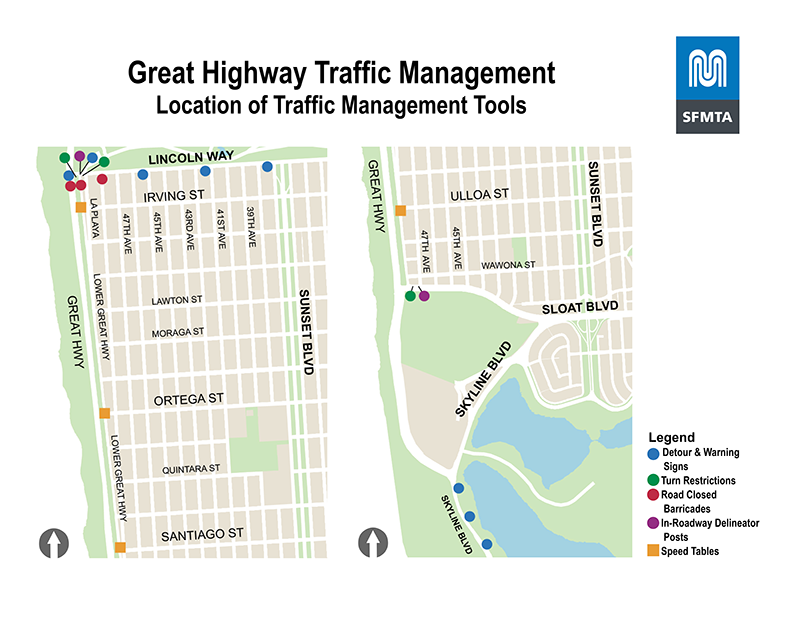 The SFMTA is also partnering with the San Francisco County Transportation Authority, San Francisco Public Works, and Recreation and Parks Department on the District 4 Mobility Study to explore the long-term future of the Great Highway.
Project Information
The goal of the Great Highway and Outer Sunset Traffic Management Project is to increase safety for all members of the public by implementing immediate and medium-term traffic management improvements. The project addresses community concerns related to changing traffic patterns during the time that the Upper Great Highway is being used by families, bicyclists, and pedestrians during the COVID-19 pandemic.
The work includes collecting traffic speed and volume data, evaluating current safety and traffic conditions, using traffic management tools such as signs and traffic diverters to manage traffic and improve safety, as well as identifying street and network changes that could complement future uses of the Great Highway.
The SFMTA is working with residents, merchants, key stakeholders, and other city departments to address the traffic and safety impacts to the community as the city evaluates potential future uses of the Upper Great Highway. Please visit the District 4 Mobility Study webpage to learn more about the Study.
Please stay tuned for additional details!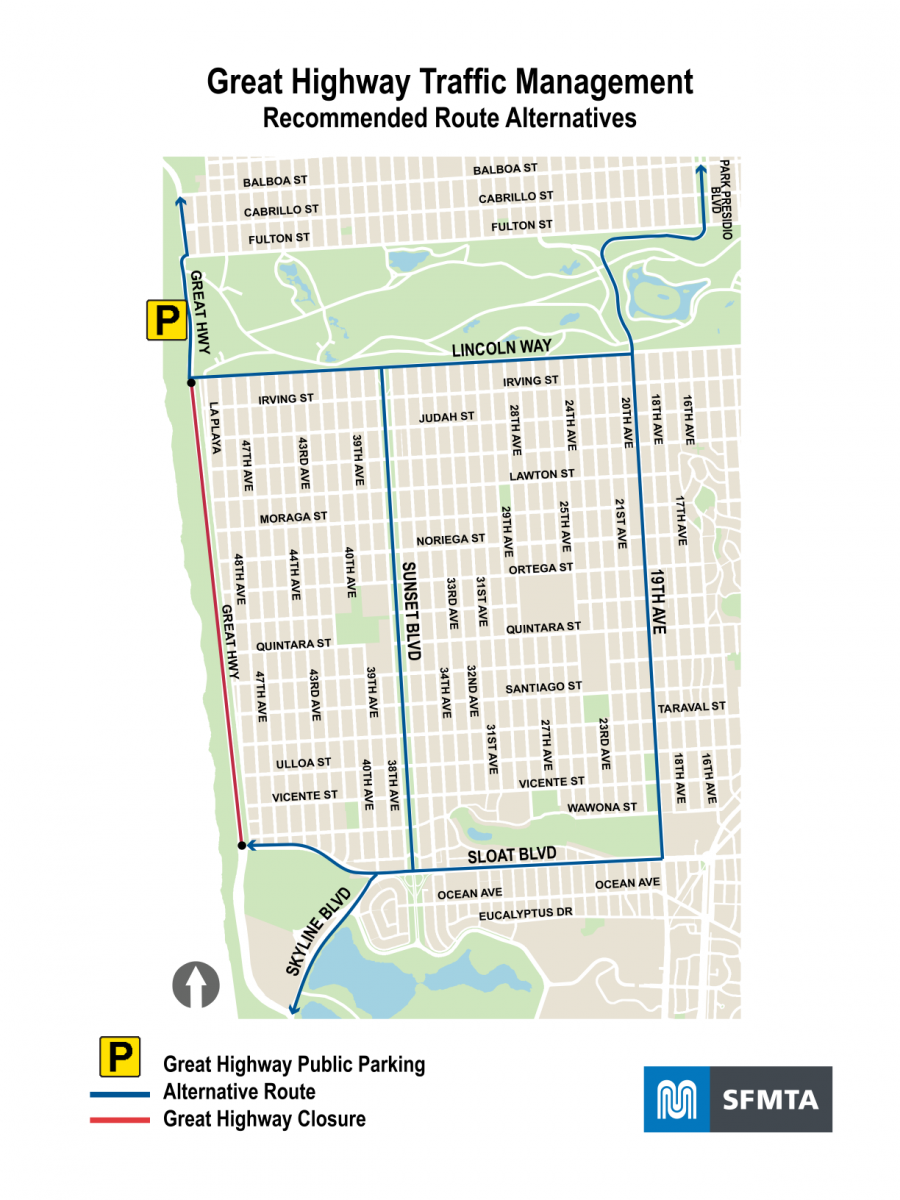 Related Projects
Project Timeline
Summer 2020 through Winter 2021
Community outreach, data collection/evaluation, installing traffic management tools
Project Status
Planning
Environmental Review
Preliminary Engineering
Improvements
Traffic safety improvements (including signs, speed tables, and traffic diverters)
Streets
Upper Great Highway, Lower Great Highway, Lincoln Way, Sloat Boulevard, Sunset Boulevard