Request a New or Expanded Permit Area
Learn about the petition and review process for bringing parking permits to your neighborhood.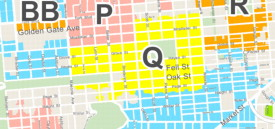 The SFMTA's Policies for On-Street Parking Management
The SFMTA uses a combination of parking meters, Residential Parking Permits (RPP), time limits, and color curb regulations to manage on-street parking. On-street parking is part of San Francisco's transportation system – how the SFMTA manages that parking affects the overall success of the system. Coherent and effective on-street parking management helps create parking availability, thereby making it easier to park, reducing congestion and illegal parking, improving Muni's speed and reliability, and increasing public safety and economic vitality. The SFMTA's Residential Parking Permit Program may be effective at improving the availability of on-street parking in areas where the predominant land use is residential. It is an inappropriate parking management tool in high-density residential, commercial and industrial areas.  In these areas, metered parking is most effective in making it easier to find parking. 
Create, Rescind or Modify a Permit Area
To add a street block or address to an existing Residential Permit Area, please email InfoRPP@SFMTA.com. Blank petition forms can be obtained here.
Requirements
San Francisco's Transportation Code has specific criteria for creating, rescinding or modifying a Residential Parking Permit Area. Per the Transportation Code, in determining whether to recommend that a residential area be created, rescinded or modified. The City Traffic Engineer will take into account factors which include, but are not limited to the following:
The extent of the desire and need of the residents for residential parking permits and their willingness to bear the resulting administrative costs even if the SFMTA does so on its own initiative.
The extent to which legal on-street parking spaces are occupied during the period proposed for parking restrictions;
The extent to which vehicles parking in the area during the times of the proposed parking restrictions are not registered to residents of proposed Residential Parking Permit Area; and
The extent to which motor vehicles registered to persons residing in the residential area cannot be accommodated by the number of available off-street parking spaces.
The process to create, rescind or modify an existing RPP Area starts with the submission of a petition. To rescind or modify an existing Residential Permit Area a petition signed by at least fifty percent of the households on the affected block(s) must be submitted to the SFMTA (one signature per household). To create a new Residential Permit Parking Area, a petition signed by at least 250 households or at least 50 percent of the residential units in the residential area proposed for designation (one signature per household) must be submitted.
Petitions should be mailed to:
SFMTA Sustainable Streets Division
Residential Parking Permit Program
1 South Van Ness Avenue, 8th Floor
San Francisco, CA 94103
Review Process
The  process to rescind or modify an existing RPP area could take approximatley four to five months. The process to create a new RPP Area could take two years or more. 
The process is as follows:
Review by SFMTA staff
Field study conducted
Engineering Public Hearing
Review by the SFMTA Board of Directors
Sign installation and permit issuance
QUESTIONS?
Please email InfoRPP@sfmta.com or call 311.