Warriors 2022 Championship Parade
Sunday, June 19, 3 pm, to Monday, June 20, 6 pm
Updated June 17, 2022, 7:40 pm
Updated June 17, 2022, 7:45 pm to correct errors and provide stop information
San Francisco will celebrate the Golden State Warriors' seventh National Basketball Association (NBA) title with a parade on Monday, June 20, 2022, from about 11:20 am until 2 pm. The parade will travel from Main to 8th Street. 
This parade will result in reroutes for Muni and traffic beginning at 3 pm Sunday, June 19.
About Muni Reroutes
Muni buses, when rerouted, only stop at marked Muni stops unless otherwise indicated
You may need to walk some distance or transfer to a different route to get closer to your destination or to a transfer point
If you need help planning your trip, please call 311 or, outside San Francisco, 415.701.2311
The Muni Metro subway will provide the most direct route along Market Street
If we need to close the subway for any reason, use the reroutes shown for All Metro Buses (L, M, N, T)
Please allow extra travel time and plan ahead
Accessibility
During the parade, the only step-free ways to cross Market Street would be:
Use one of the Powell Station street elevators to reach the concourse level from the north side of Market Street
Use the Westfield Mall to reach the concourse level from the south side of Market Street. This is private property and we cannot guarantee it being available
Use the 8, 12, 19, or 27 route to cross Market street. See Routes that cross Market Street.
Reroute details
Routes that go toward & away from the Ferry Building (F, All Metro buses, 5, 7, 9, 14, 14R, 31, 38, 38R)
Routes that cross Market Street (8, 19, 27, 30, 45)
Cable Cars
Route

Reroute times

Toward Market Street

Away from Market Street

California cable car
Sunday & Monday all day
Bus substitution

Bus substitution
Board on Drumm & California or California & Front.
Stop at California & Davis will be missed.

Powell-Hyde cable car
Monday from start of service to 3 pm
Serves only as far south as Washington & Powell. Does not serve Union Square or Powell Terminal until after 3pm. 
Board on Powell between Washington and Jackson going north
Powell-Mason cable car
Monday from start of service to 3 pm
Serves only as far south as Washington & Powell. Does not serve Union Square or Powell Terminal until after 3pm. 
Board on Powell between Washington and Jackson going north
Routes that go toward & away from the Ferry Building
Route

Reroute times

Toward the Ferry Building

Away from the Ferry Building

F Market and Wharves Bus
Sunday 3 pm to Monday 6 pm

Bus Substitution

Toward Fishermans Wharf is

Sunday:

At Market & 8th, right on 8th, left on Mission, left on Embarcadero into F-Line right of way to regular route

Monday: 

At Market & 10th, right on 10th, left on Mission, left on Embarcadero into F-Line right of way to regular route

Bus Substitution

Away from Fishermans Wharf is

Sunday:

From regular route, right on Mission, right on 9th, left on Market to regular route
Between the Ferry Plaza and 8th Street, board at 14-Route stops along Mission

Monday:

From regular route, right on Mission, right on 11th, left on Market to regular route
Between the Ferry Plaza and 810th Street, board at 14-Route stops along Mission

 

L Bus

Sunday 3 pm to Monday 6 pm

Sunday:

At Market & 8th, right on 8th, left on Mission, right on Beale, left on Folsom, left on Main to temporary terminal between Howard and Folsom, west side. 

Monday: 

At Market & 10th, right on 10th, left on Mission, right on Beale, left on Folsom, left on Main to temporary terminal between Howard and Folsom, west side. 

Sunday:

From Main/Folsom, left on Howard, right on Fremont, left on Mission, right on 9th, left on Market to regular route
Board at Mission/1st

Monday:

From Main/Folsom, left on Howard, right on Fremont, left on Mission, right on 11th, left on Market to regular route
Board at Mission/1st

L Owl

Sunday 10 pm - 6:30 am

At Market & 8th, right on 8th, left on Mission, left on Embarcadero to regular route

From Regular Route, right on Mission, right on 9th, left on Market to regular route
Between the Ferry Plaza and 8th Street, board at 14-Route stops along Mission

N Owl

(Sunday night) Monday 12:01 am  - 6:30 am

At Market & 8th, right on 8th, left on Mission, right on Embarcadero to regular route

From Regular Route, left on Mission, right on 9th, left on Market to regular route
Between the Ferry Plaza and 8th Street, board at 14-Route stops along Mission

N Bus

Monday 5 am to Monday 6 pm

At Market & 10th, right on 10th, left on Mission, right on Embarcadero to regular route

 

From Regular Route, left on Mission, right on 11th, left on Market to regular route
Between the Ferry Plaza and 10th Street, board at 14-Route stops along Mission

K Bus

Monday 5 am to Monday 6 pm

From Market & 10th, right on 10th, left on Mission to The Embarcadero

From the Embarcadero, left on Mission, right on 11th, left on Market to Regular Route
Between the Ferry Plaza and 10th Street, board at 14-Route stops along Mission

T Bus

Sunday 6 pm to Monday 6 pm

Toward Sunnydale is:

Sunday: 

From the Embarcadero, left on Mission, right on 9th, left on Market to Regular Route
Between the Ferry Plaza and 8th Street, board at 14-Route stops along Mission

Monday: 

From the Embarcadero, left on Mission, right on 11th, left on Market to Regular Route
Between the Ferry Plaza and 10th Street, board at 14-Route stops along Mission

Toward Castro is:

Sunday: 

From the Embarcadero, left on Mission, right on 9th, left on Market to Regular Route

Board on Mission Street between 1st and 8th Streets. 

Monday: 

From the Embarcadero, left on Mission, right on 11th, left on Market to Regular Route

Board on Mission Street between 1st and 10th Streets. 

5 Fulton

Sunday 3 pm to Monday 6 pm

Sunday 3pm - Monday 5am: 

At McAllister & Hyde, right on Hyde, continue on 8th, left on Mission, right on Beale, right into Transit Center

Monday 5am - 6pm: 

At McAllister & Van Ness, right on Van Ness Red Lanes, left on Mission, right on Beale, right into Transit Center

Sunday 3pm - Monday 5am: 

From Transit Center, right on Fremont, left on Mission, right on 11th, left on Hayes, right on Franklin, left on McAllister to regular route.
Board at one of the following stops:

Bay B in the Transit Center
Between 1st and 8th streets, board at 14-Route stops along Mission
21-Route stop at Hayes after Van Ness
Regular stops starting at McAllister & Gough

Monday 5am - 6pm: 

From Transit Center, right on Fremont, left on Mission, right on S Van Ness, left on Hayes, right on Franklin, left on McAllister to regular route.
Board at one of the following stops:

Bay B in the Transit Center
Between 1st and South Van Ness, board at 14-Route stops along Mission
21-Route stop at Hayes after Van Ness
Regular stops starting at McAllister & Gough

7 Haight / Noriega

Sunday 6 pm to Monday 6 pm

Sunday: 

At Market & 8th, right on 8th, left on Mission, right on Beale, right into Transit Center

Monday: 

At Market & 10th, right on 10th, left on Mission, right on Beale, right into Transit Center

Sunday: 

From Transit Center, right on Fremont, left on Mission, right on 9th, left on Market to regular route. 
Board at one of the following stops:

Bay E in the Transit Center
Between 1st and 8th streets, board at 14-Route stops along Mission
Regular stops starting at Market & Van Ness

Monday:

From Transit Center, right on Fremont, left on Mission, right on 11th, left on Market to regular route. 
Board at one of the following stops:

Bay E in the Transit Center
Between 1st and 10th streets, board at 14-Route stops along Mission
Regular stops starting at Market & Van Ness

9 San Bruno

Sunday 3 pm to Monday 6 pm

Sunday: 

At Market & 8th, right on 8th, left on Mission, right on Beale, last stop Beale nearside Folsom. 

Monday: 

At 11th & Mission, right on Mission, right on Beale, right into Transit Center Bay E

Sunday:

From Beale/Folsom, right on Folsom, right on Fremont, left on Mission, right on 9th, left on Market to regular route
Board at one of the following stops:

Transit Center - see signs or SFMTA staff for bay location
Between 1st and 8th streets, board at 14-Route stops along Mission
Regular stops starting at 11th & Market

Monday:

From Transit Center Bay E, right on Fremont, left on Mission, left on 11th to regular route
Board at one of the following stops:

Transit Center - see signs or SFMTA staff for bay location
Between 1st and 10th streets, board at 14-Route stops along Mission
Regular stops starting at 12th & Mission

14 Mission

Sunday 3 pm to Monday 6 pm

Sunday:

From Mission& Beale, right on Beale, left on Folsom, left on Main to midblock between Folsom and Howard.

Monday:

From Mission & Beale, right on Beale, right into Transit Center, Bay C

Sunday:

From Main/Folsom, left on Howard, right on Fremont, left on Mission to regular route
Board at one of the following stops:

Transit Center - see signs or SFMTA staff for bay location
Regular stops starting at Mission & 1st

Monday:

From Transit Center Bay C, right on Fremont, left on Mission to regular route
Board at one of the following stops:

Transit Center - see signs or SFMTA staff for bay location
Regular stops starting at Mission & 1st

14R Mission Rapid

Sunday 3 pm to Monday 6 pm

Sunday:

From Mission & Beale, continue Mission, left on The Embarcadero northbound, southbound on The Embarcadero, R-Mission to terminal at Mission/Main nearside. 

Monday:

From Mission & Beale, right on Beale, right into Transit Center, Bay D

Sunday:

From Mission/Main to regular route

Monday:

From Transit Center Bay D, right on Fremont, left on Mission to regular route
Board at one of the following stops:

Transit Center - see signs or SFMTA staff for bay location
Regular stops starting at Mission & 1st

31 Balboa

Sunday 6 pm to Monday 6 pm

At Eddy & Mason, right on Mason, right on Turk. Last Stop Mason & Turk.

From Mason & Turk, continue Turk to regular route
Board at Mason & Turk

38 Geary

Sunday 6 pm to Monday 6 pm

Sunday 6pm - Monday 5am:

At O'Farrell & Stockton, right on Stockton, continue 4th, left on Mission, right on Beale, right into Transit Center. 

Monday 5am - 6pm:

At O'Farrell & Stockton, continue on O'Farrell to temporary terminal at Grant.

Sunday 6pm - Monday 5am:

From Transit Center, right on Fremont, left on Mission, right on Third, continue Kearny, left on Geary to regular route.
Board at regular stops starting at Geary & Stockton.

Monday 5am - 6pm:

From temporary terminal, left on Grant, left on Geary to regular route
Board at regular stops starting at Geary & Stockton

38R Geary Rapid

Sunday 6 pm to Monday 6 pm

Sunday 6pm - Monday 5am:

At O'Farrell & Stockton, right on Stockton, continue 4th, left on Mission, right on Beale, right into Transit Center. 

Monday 5am - 6pm:

At O'Farrell & Stockton, continue on O'Farrell to temporary terminal at Grant.

Sunday 6pm - Monday 5am:

From Transit Center, right on Fremont, left on Mission, right on Third, continue Kearny, left on Geary to regular route.
Board at regular stops starting at Geary & Stockton.

Monday 5am - 6pm:

From temporary terminal, left on Grant, left on Geary to regular route
Board at regular stops starting at Geary & Stockton
Routes that cross Market Street
Route

Reroute times

Northbound

Southbound

8 Bayshore

Monday 4 am to 6 pm

From 3rd & Mission, right on Mission, left on Embarcadero, left on Washington, left on Montgomery, right on Sutter, right on Kearny to regular route
Last regular stop south of Market is 3rd & Folsom
Use 14-Route stop on Mission & 2nd 
Does not stop at Market
First stop north of Market is Kearny & Bush

From Stockton & Sutter, left on Post, left on Kearny, right on Clay, left on Drumm, right on Washington, right on Embarcadero, right on Mission, left on 4th, to regular route
Last regular stop north of Market is Stockton & Sutter
Does not stop at Market
First regular stop south of Market is 4th & Mission

12 Folsom / Pacific

Sunday 3 pm to Monday 6 pm

At Folsom & Beale, continue on Folsom, left on Embarcadero, left on Washington, left on Drumm, right on Sacramento to regular route
Last stop south of Market is Folsom & 1st
Does not stop on Main or Drumm or at Market
First stop north of Market is Sacramento & Davis

From Clay & Drumm, left on Drumm, right on Washington, right on Embarcadero, right on Folsom to regular route
Last stop north of Market is Clay & Drumm
Does not stop on Spear or at Market
First stop south of Market is Folsom & Beale

15 Bayview Express Sunday

Sunday 6 pm to 11 pm

Sunday: 

From 3rd & Market, continue to Kearny, left on Sutter.
Last stop Sutter & Kearny

Monday: 

From 3rd & Market, left on Mission, left on 4th.
Last stop 4th/Mission

Sunday:

From Sutter & Kearny, continue on Sutter, to regular route
Board at one of the following stops:

30-Route stop on Sutter after Kearny
Regular stops starting at 4th & Market

Monday:

From 4th/Mission, continue on 4th, to regular route
Board at one of the following stops:

30-Route stop on Sutter after Kearny
Regular stops starting at 4th & Mission

19 Polk

Monday 4 am to 6 pm

From 7th & Mission, left on Mission, right on 9th, continue on Larkin to regular route
Last regular stop south of Market is 7th & Howard
Use 14-Route stop on Mission & 7th 
Does not stop at Market
First stop north of Market is Larkin & Grove

No change

27 Bryant

Monday 4 am to 6 pm

From 7th & Mission, left on Mission, right on 9th, continue on Larkin, right on Eddy, left on Leavenworth to regular route
Last regular stop south of Market is 7th & Howard
Use 14-Route stop on Mission & 7th
Does not stop at Market or at Leavenworth & Turk
Use 19-Route stop on Larkin & Grove
First regular stop north of Market is Leavenworth & O'Farrell

From Jones & Turk, right on Turk, left on Hyde, continue on 8th to regular route
Last regular stop north of Market is Jones & Ellis
Use 19-Route stop on Hyde & Grove
Does not stop at Leavenworth & Turk 
First stop south of Market is 8th & Market

30 Stockton north of Market

Monday 4 am to 6 pm

First stop is Stockton & Sutter

Last stop is Stockton & Sutter
Transfer to 8 for service south of Market Street

30 Stockton south of Market

Monday 4 am to 6 pm

Last stop is 3rd & Folsom
Transfer to 8 for service south of Market Street

First stop is 4th & Mission

45 Union / Stockton north of Market

Monday 4 am to 6 pm

First stop is Stockton & Sutter

Last stop is Stockton & Sutter
Transfer to 8 for service south of Market Street
Maps
Muni Reroutes for Parade Set Up Day: Sunday, June 19, 2022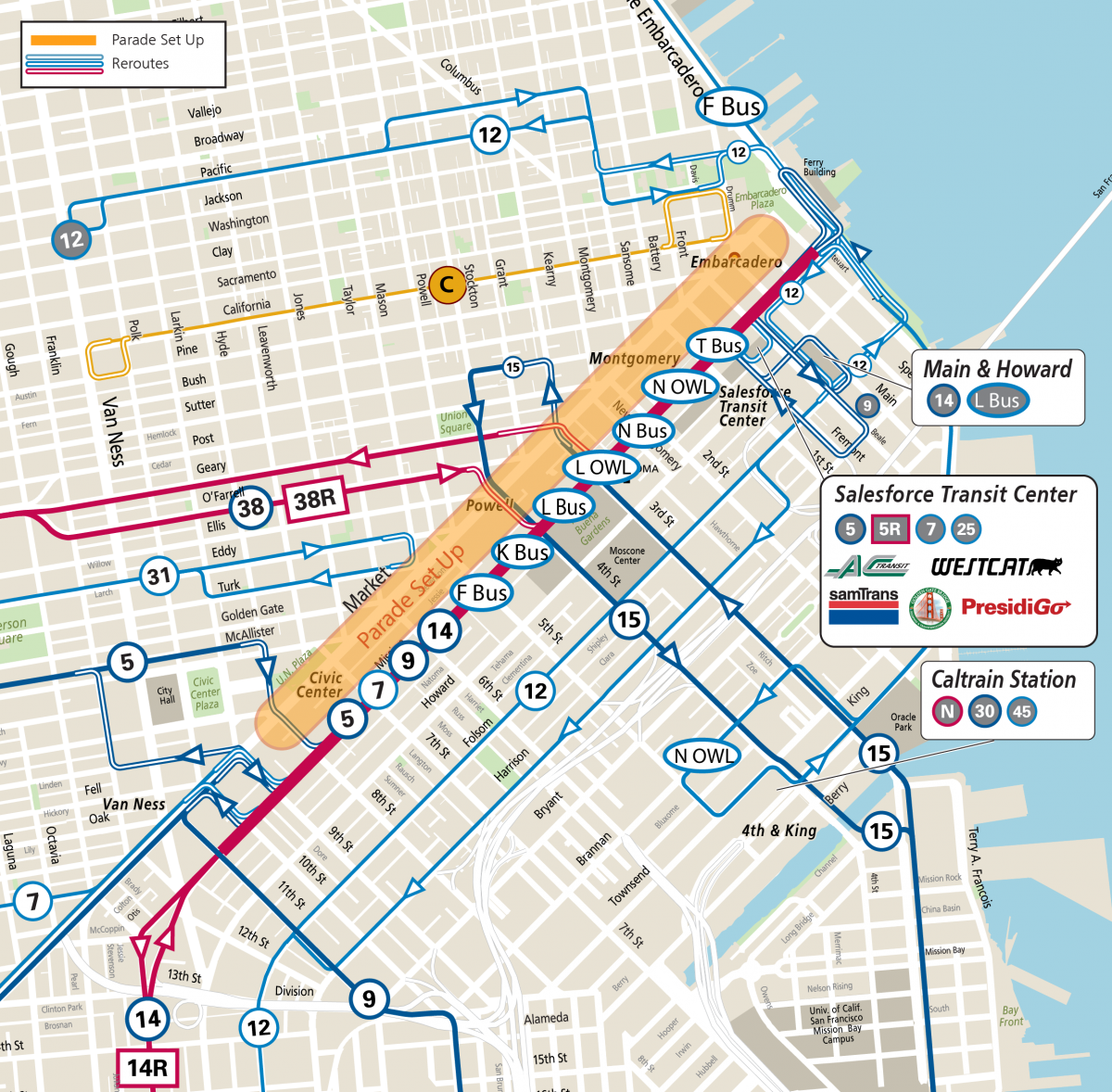 Muni Reroutes on Parade Day: Monday, June 20, 2022