Get Your Transportation Needs Met in the Bayview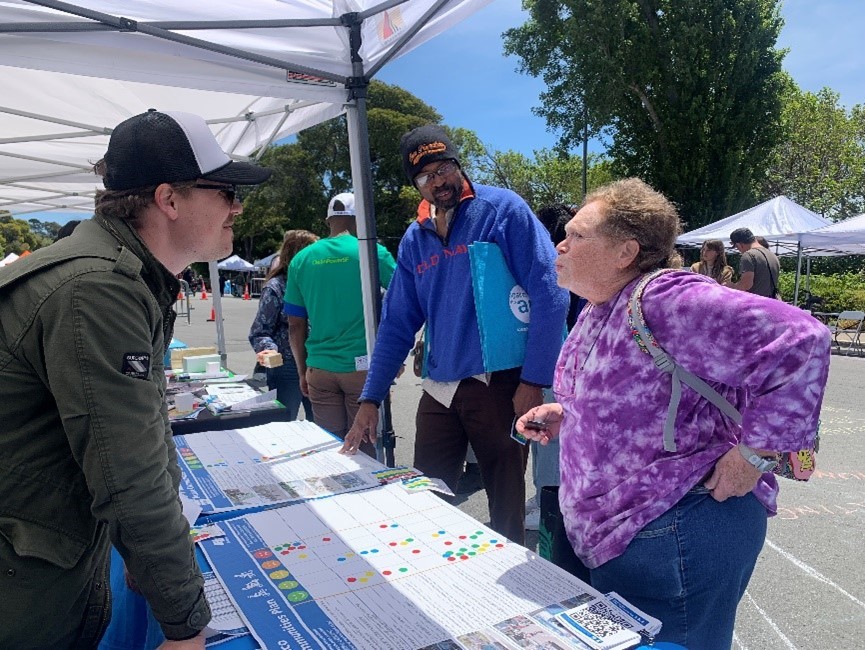 SFMTA staff tabling at Bayview Sunday Streets in May of 2023. 
Starting this summer, Bayview-Hunters Point residents can get their transportation service needs met without having to leave the neighborhood! The Transportation Resource Center (TRC) at 5009 3rd Street is now open from 10 a.m. to 5 p.m., Monday through Friday, and offers access to Muni resources. 
Run by the SFMTA and Community Youth Center of San Francisco, the TRC is part of the larger SFMTA Bayview Community Shuttle Program. 
There are many programs that make transportation more affordable and accessible for youth, seniors, low-income residents and residents with a disability – but learning about these programs or registering for them can be a challenge. The TRC makes information and services for transportation easily available for residents in Bayview-Hunters Point, with staff on site to help navigate forms and requirements. At the Center people can: 
We're also partnering with the HOPE SF Youth Leadership Program (led by Bay Area Community Resources) to share information about the TRC with residents at HOPE SF housing sites across Bayview-Hunters Point. These youth champions will help expand mobility to those who find it hardest to access transportation.   
Mobile Sales Van Partnership 
We're also bringing the SFMTA Mobile Sales Van to the TRC for pop-ups on July 11 and July 18 from 10 a.m. to 2 p.m. Residents can buy Clipper cards, buy or renew transit passes and pay parking citations at the Mobile Van. The SFMTA Mobile Van also stops at Mendell Plaza in Bayview-Hunters Point the first and last Friday of every month from 10 a.m. to 2 p.m.  
You can get involved with the Bayview Community Shuttle in a number of ways: 
Find more information on the Bayview Community Shuttle Bayview Community Shuttle Fact Sheet.