Last Chance for the Winter Walk and Embarcadero Ice Skating
Wednesday, December 23, 2015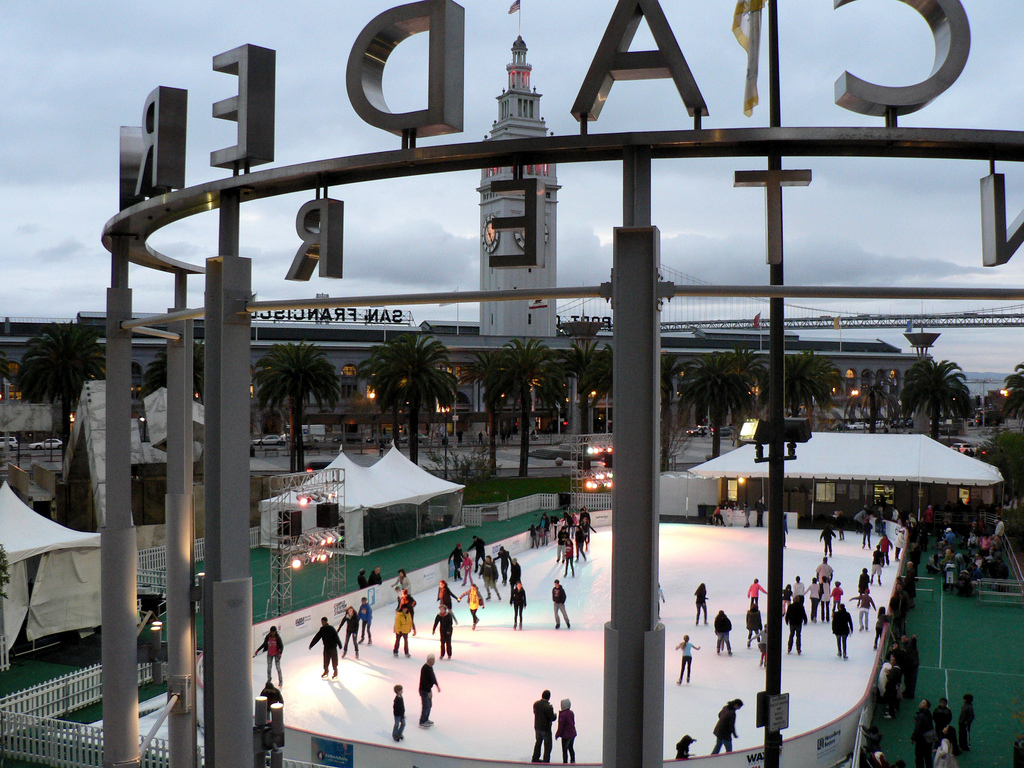 Embarcadero Ice Rink on December 20, 2010. Photo credit: Christina B Castro/Flickr
News and Notes for Christmas and New Year's days:
Service - Muni will operate on a Sunday schedule on Christmas, this Friday, as well as New Year's Day next Friday. From December 28 - 31, some Muni routes, mostly express routes, will be suspended due to lighter ridership. Please check the alert page for details.
In addition, Muni will provide free New Year's Eve service beginning at 8 p.m. on Thursday, Dec. 31 running until 5 a.m. the next morning. Remember not to tag your Clipper card during the complimentary service period or you will be charged the regular fare.
Holiday Parking Enforcement  - On Christmas and New Year's Day there will be no enforcement of the following:
Seven-day street sweeping
Residential permits
Commute-hour tow away zones
Parking meters, including meters on Port of San Francisco property.
See our Holiday Enforcement page for more details.
Events:
As the holiday season comes to a close, there's still a chance to enjoy the Winter Walk plaza in Union Square and the Ice Rink at Justin Herman Plaza – but act fast!
Winter Walk SF
Now until January 1, All Day
Stockton Street between Geary and Ellis Street
If you haven't had an opportunity to check out Winter Walk SF, Union Square SF's popular block party, get down there before it's gone. The open air plaza on two city blocks features a nightly light show, Ghirardelli Chocolate samples on Saturdays, holiday carols on Thursdays and Saturdays, and great food truck selections. Plus check out the cute and cuddly (and adoptable!) pets at Macy's.
To get to the holiday magic at Union Square, you can take Muni Metro to Powell Station, any Market Street bus route to Powell Street, as well as the 2 Clement, 3 Jackson, 38 Geary, 38R Geary Rapid lines, and the Powell Cable Car Line.
Muni service note: Muni routes serving Union Square may see higher ridership than usual.
Embarcadero Ice Rink
Now until January 3, times vary
Justin Herman Plaza
A holiday tradition for more than 25 years, the Ice Rink at Embarcadero Center is the largest outdoor skating rink in the city.  The Ferry Building provides an amazing backdrop for creating holiday memories that will last a lifetime.
Holiday skaters can take Muni Metro to Embarcadero Station, the F Market or E Embarcadero (weekends only) to the Ferry Building, as well as the 14 Mission, 14R Mission Rapid lines, or any Market Street route to Market and Steuart streets.
Muni service note: no service will be affected.
Construction Reminders:
The Muni Metro subway continues to close early each night at 9:30pm for system upgrades. Metro bus shuttles will operate between St. Francis Circle and Market and Spears streets from 9 p.m. to 1:30 a.m.
Super Bowl 50:
Super Bowl 50 is coming to the San Francisco Bay Area with activities taking place across the region from Jan. 30 to Feb. 7, 2016. Transportation impacts are expected to last from Jan. 20 to Feb. 12.
With a million visitors expected to come to San Francisco for the Super Bowl, the SFMTA is working with the Super Bowl 50 Host Committee, regional transit partners, city and community leaders to ensure that residents, commuters and visitors can get where they are going safely, securely and with minimal disruptions during the Super Bowl festivities.
With the exception of the E Line, all Muni routes and lines will be running during this time.
 "On Tap" gives you a heads up about the big events in town and what Muni routes and lines will get you to the party. Look for this feature to be posted usually on Wednesdays for a look ahead to the weekend.