A Race, A Parade & Plenty of Construction
Wednesday, November 4, 2015
Construction Alert and Reminder:
Sunset Tunnel construction work scheduled to take place this weekend has been cancelled. Regular N Judah Line service will operate this weekend. The next construction weekends are tentatively set for November 14 and 21.
The Muni Metro subway continues to close early each night at 9:30pm for system upgrades. Metro bus shuttles will operate between St. Francis Circle and Market and Spears streets from 9 p.m. to 1:30 a.m. even during 4th and King construction.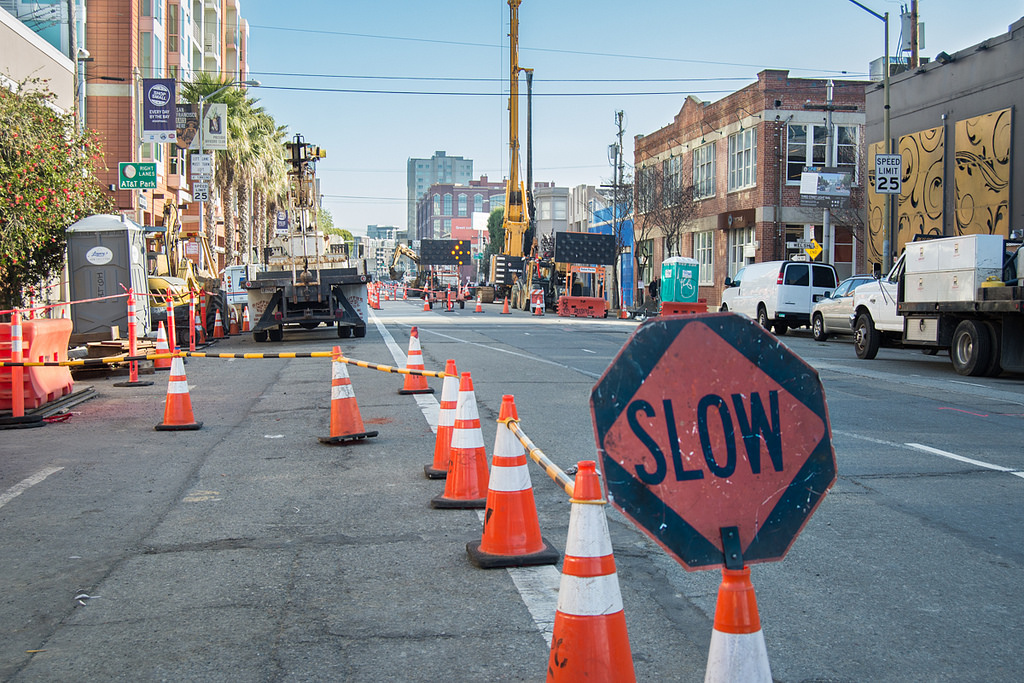 Central Subway Track Construction
4th and King
Friday through Saturday, November 14
Get ready for about eight days of construction, traffic and service impacts beginning this Friday at 10 p.m. Here are some of the of the service-related impacts you can expect during the construction:
There will be no E Embarcadero Line service on the weekends of November 7 and 14.

Bus shuttles will provide T Third Line service between Embarcadero Station and Sunnydale and Bayshore.

The K Ingleside Line will operate between Balboa Park and Embarcadero stations.

The F Market towards Fisherman's Wharf will begin service 45 minutes later than regularly scheduled.

The N Judah Line will see delays through the construction zone in both directions.

Patrons travelling to Caltrain should consider using the 10 Townsend, 30 Stockton, 45 Unions/Stockton, 81X Caltrain Express, and 82X Levi Plaza Express.
For a comprehensive look at the project, street closures and the resulting effects on traffic and service, please see the 4th and King alert page.
Events:
With Halloween now in the rear view mirror and thoughts turning toward holiday travel plans, let us not forget that the city still has a few more events in store before Thanksgiving arrives and kicks off the official start to the holiday season.
Golden Gate Half Marathon
Sunday, 7 a.m.
Aquatic Park
In what could arguably be considered one of the most scenic half marathons anywhere in the country, if not the world (overt local bias intended!), the 13.1 mile long Golden Gate Half Marathon is a visually stunning treat for runners and spectators alike.
The race course will take runners from Aquatic Park along the Marina through the Presidio over the Golden Gate Bridge into the Marin Headlands and then back to the finish line at Aquatic Park.
Runners and spectators can use the 19 Polk, 22 Fillmore, 28 19th Avenue, 30 Stockton, 47 Van Ness, 49 Mission/Van Ness, 76X Marin Headlands Express, and the Powell Hyde Cable Car Line to get to different sections of the course.
Muni service note: the 28 19th Avenue, 30 Stockton, 47 Van Ness and 49 Mission/Van Ness will have re-routes.
Veterans Day Parade
Sunday, 11 a.m.
The Embarcadero and North Point Street
Every Veterans Day provides an opportunity to say thank you to the men and women who have served in the armed forces, and in a year that marks the 70th anniversary of the end of World War II, this year's holiday parade offers a chance to come out and recognize those remaining but dwindling numbers of servicemen and women of the "greatest generation" for their lasting contribution to the nation.
This year's parade will stage on North Point and Powell streets. From North Point Street the parade will travel north along The Embarcadero turning west on Jefferson Street disbanding at Jefferson and Hyde streets.
Parade watchers and participants can take the F Market, 8 Bayshore, 19 Polk, 39 Coit, 47 Van Ness, Powell Hyde and Powell Mason Cable Car lines.
Muni service note: during the parade service on the F Market, 8 Bayshore, 39 Coit, and 47 Van Ness will be affected.
On Tap for next weekend: Construction at 4th and King, Sunset Tunnel, and CMPC Hospital.
"On Tap" gives you a heads up about the big events in town and what Muni routes and lines will get you to the party. Look for this feature to be posted usually on Wednesdays for a look ahead to the weekend.