Sunset Tunnel, Super Bowl City Set-up, and the Walk for Life This Weekend
Wednesday, January 20, 2016
Construction Alerts and Reminder:
After six months of early subway shutdowns for system upgrades, the Muni Metro subway will resume late night operating hours and train service this Saturday as upgrade work concludes on Friday. So, please don't look for the Metro bus shuttles starting Saturday night – go ahead and enter the station as you would have six months ago.  
Until then…
The Muni Metro subway will continue to close early at 9:30pm for system upgrades. Metro bus shuttles will operate between St. Francis Circle and Market and Spears streets from 9 p.m. to 1:30 a.m.
Sunset Tunnel construction work will resume this weekend beginning at 2 a.m. on Saturday and will run until 3:30 a.m., Monday. During tunnel work, bus shuttles will provide N Judah Line service between Duboce Avenue and Church Street and Ocean Beach.
Super Bowl 50:
Are you ready for some football? Just a little over two weeks until the big game, but starting this Saturday street closures in the downtown area go into effect as crews begin the set-up for Super Bowl City and the NFL Experience. For details on Muni impacts and information on how to get around the affected area, please re-visit our January 14 blog post.
For all of the SF transportation maps and plans, visit the SFMTA Super Bowl 50 page. Or get updates sent directly to your inbox. For event information, please visit the Super Bowl 50 Host Committee site.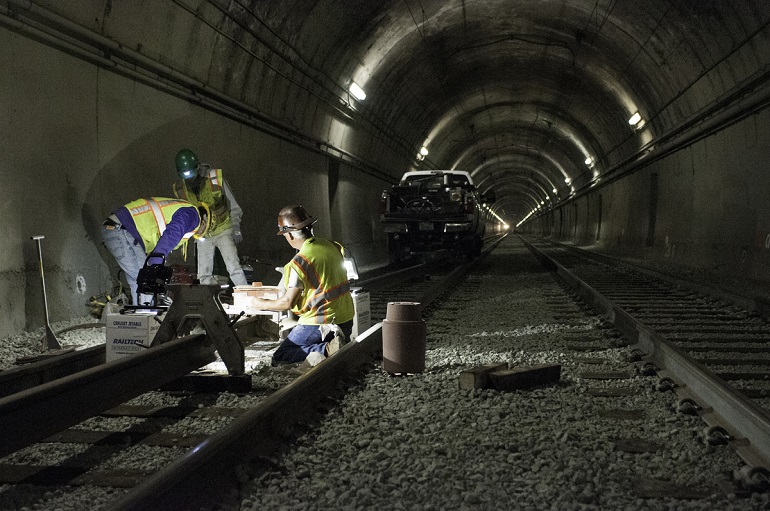 A crew works on the Sunset Tunnel trackway last May. The weekend-only work continues Friday night, January 22. Photo taken May 1, 2015
Events:
The Walk For Life
Saturday, 1:30 p.m.
Civic Center
Beginning with a rally in the Civic Center/UN Plaza at 11:30 a.m., the annual walk, which draws thousands of participants, will commence at 1:30 p.m. from the Civic Center/U.N. Plaza and turn onto Market Street proceeding eastbound to Fremont Street.
Due to street closures in the downtown area, pedestrian and vehicle traffic congestion on surrounding streets may be heavy. Plan ahead and utilize alternative routes to avoid delays.
Muni service note: the 2 Clement, 5 Fulton, 6 Haight/Parnassus, 7 Haight/Noriega, 8 Bayshore, 9 San Bruno, 10 Townsend, 12 Folsom/Pacific, 14 Mission, 14R Mission Rapid, 19 Polk, 21 Hayes, 27 Bryant, 30 Stockton, 31 Balboa, 38 Geary, 38R Geary Rapid, 45 Union/Stockton and F Market will have re-routes. The best transportation option will be to use the Muni Metro subway to Civic Center Station. Please be advised that several of these routes will have additional re-routes related to the set-up of Super Bowl City.
Winter Storm Information:
The Department of Emergency Management has prepared a Comprehensive Guide to Everything El Niño in order to prepare and assist people on what to know and what to be aware of during the storms. We've been preparing for months and know you'll want to plan your trip before you head out into inclement weather. Sign up for Muni Alerts to get real-time service updates on your most used Muni routes and lines.
On Tap for next week: Super Bowl City and NFL Experience.
 "On Tap" gives you a heads up about the big events in town and what Muni routes and lines will get you to the party. Look for this feature to be posted usually on Wednesdays for a look ahead to the weekend.