This Weekend: Visitacion Valley Family Day and Bay to Breakers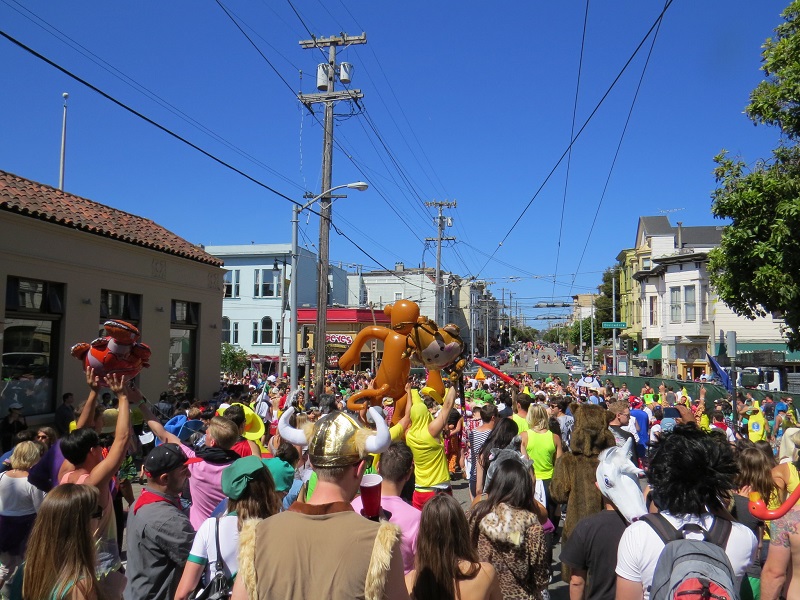 Thousands will take part in Sunday's Bay to Breakers footrace across the city. Photo: Carnaval.com Studios/Flickr
Visitacion Valley Family Day and Parade
Saturday, 11 a.m. to 4 p.m.
Visitacion Valley
For 21 years, the Visitacion Valley Family Day at Hertz Playground has provided community members a chance to gather for a fun-filled day of entertainment that will feature a parade, car show, performances, a raffle and plenty of activities to keep the kids busy. The parade will start at Velasco Avenue and Santos Street proceeding along Santos onto Sunnydale Avenue culminating on Hahn Street at Visitacion Avenue.
---
How to Get There on Muni: The 8 Bayshore, 9 San Bruno, and 56 Rutland routes will take riders to near the event.
Muni Service Notes: The 8 and 56 routes will have reroutes during the event. 
Bay to Breakers
Sunday, 8 a.m. to 1 p.m.
From Downtown to Ocean Beach
As the city worked to rebuild in the aftermath of the devastating 1906 earthquake and fire, it was recognized that simply rebuilding infrastructure and homes wouldn't be enough and that rebuilding the civic morale and spirits of its citizens was just as important to the future of San Francisco. One such idea borne of this effort was the Cross City Race that took place on January 1, 1912, and has endured since that time having been run for more consecutive years over a given course and length than any other footrace in the world. The one thing that has changed, however, is the name of the race which is now known as Bay to Breakers. 
Bay to Breakers now draws participants and spectators from all around the world -- it set a Guinness World Record in 1986 with 110,000 people in attendance! -- who come together to compete, cavort and celebrate, often in creative, colorful costumes. Stretching from downtown through the heart of the city all the way to Ocean Beach, the race is truly a city-spanning event. Live music punctuates the course and will also help kick off the celebration at the finish line at Ocean Beach along with food, drinks and medal presentations to race winners and finishers.
How to Get There on Muni: Participants may take the F Market and Wharves Line, any Muni Metro line or bus route that utilizes Market Street to downtown to get near the starting line at Howard and Main streets. Also available to take riders close to the starting line will be the 8 Bayshore, 10 Townsend, 12 Folsom/Pacific, 14 Mission/14R Mission Rapid or the 25 Treasure Island routes.
Muni Service Notes: There will be extra service provided on the N Judah Line as well as additional Muni Metro shuttle service. Additional service will also be provided for the NX-Judah Express, 5R Fulton Rapid, 5X Fulton Express, 18 46th Avenue, 28 19th Avenue and 44 O'Shaughnessy routes. The F Market and Wharves, E Embarcadero, Metro Owl coaches, 2 Clement, 5 Fulton, 6 Haight/Parnassus, 7 Haight/Noriega, 8 Bayshore, 9 San Bruno, 10 Townsend, 12 Folsom/Pacific, 14 Mission/14R Mission Rapid, 18 46th Avenue, 19 Polk, 21 Hayes, 22 Fillmore, 24 Divisadero, 25 Treasure Island, 27 Bryant, 29 Sunset, 30 Stockton, 31 Balboa, 33 Ashbury/18th Street, 38 Geary/38R Geary Rapid, 43 Masonic, 44 O'Shaughnessy, 45 Union/Stockton, 47 Van Ness, and 49 Van Ness/Mission routes will have reroutes. Several routes will begin rerouting on Saturday evening due to event setup.
Remember that you can take Muni for the entire day for a single $5 fare. The new $5 Day Pass, available on MuniMobile®, is part of Muni's recent fare changes. The pass is intended to encourage a safe, convenient way to pay your fare and quickly board Muni vehicles, which reduces overall travel time for everyone. The $5 Day Pass is Muni bus, rail and historic streetcars only.
"On Tap" gives you a heads up about the big events in town and what Muni routes and lines will get you to the party. Look for this feature to be posted usually on Thursdays for a look ahead to the weekend. Check out our Weekend Traffic & Transit Advisory for more details.