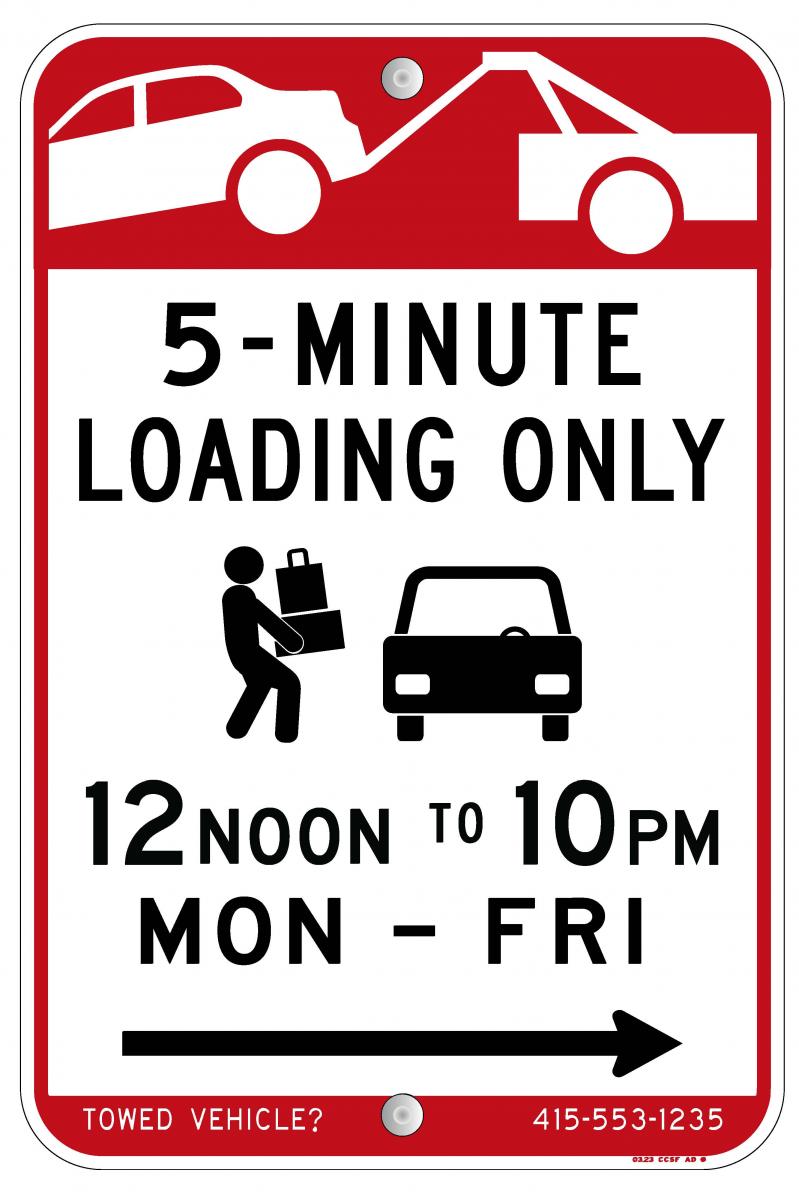 General Loading Zones
General loading zones provide short-term access to the curb for people to pick up or drop off goods in their personal vehicles. They generally operate during business hours and revert back to adjacent parking regulations at all other times. They are not for exclusive use by one business or their patrons and will be sited by the Color Curb team for maximum utility and visibility. In some cases general loading zones may not be sited right at the applicant's front door.
These zones are meant to be shared by visitors to multiple businesses on a block. Any vehicle parked for more than five minutes in a general loading zone is subject to citation and towing. 
Eligibility 
General loading zones are designed for businesses or a collection of businesses that generate a significant amount of pickups or drop-offs, typically 10 or more per hour. They are not designed for residential blocks or blocks with a small number of businesses on them. The most common businesses that are eligible are restaurants or any business that has high pickup or drop-off volume and very quick customer transactions. Please consult with the Color Curb team to assess your eligibility before paying the application fee as it is non-refundable.
You may be eligible if your business:
Generates a minimum of 10 delivery orders and/or pickups per hour (can be combined with neighboring businesses to meet minimum)

Is located on a block that has high commercial activity

Is not located on a residential, mostly residential block or industrial block

Is not located along red curb, a blue zone, a bus zone or peak tow away zone

Does not have off-street parking associated with your business
*Some limited exceptions may apply. Please contact us to assess your eligibility if you are unsure whether you qualify at ccp@sfmta.com
Fees  
A non-refundable application fee is required for general loading zones. If approved, general loading zones are required to be renewed, with a renewal fee, every two years. 
The application fee is due with the application for general loading zones. Government agencies providing public services, and non-profits that provide free services exclusively to seniors and people with disabilities are the only entities exempt from fees. 
The installation fee is due only if and when the application has been approved and should not be combined with the application fee. 
| Zone length (in feet)  | Installation or renewal fee  | Application fee  |
| --- | --- | --- |
| 1 to 22   | $575 | $850  |
| 23 to 44   | $1,150 | $850  |
| 45 to 66  | $1,725  | $850 |
| Over 66 | $2,300 | $850  |
APPLICATION FEE IS NON-REFUNDABLE. Consult with the Color Curb team to review your eligibility before paying the application fee. You may also consider other types of color curbs as they may be a better fit for your business.
Any unauthorized signage that attempts to restrict access to the zone contradicts the purpose of these zones and is considered an abuse of the zone. General loading zones are not for long term parking of any vehicle, including the applicant's vehicles. Abuse of a general loading zone may result in the zone being revoked.
**PLEASE DO NOT APPLY IF YOUR BUSINESS DOES NOT MEET THE ELIGIBILITY CRITERIA ABOVE. YOUR APPLICATION MAY BE DENIED.**
Apply for a general loading zone.