29 Sunset Improvement Project
Project Introduction
Summer 2021 Project Update 
August 3, 2021 
COVID-19 Pandemic Impact  
At the beginning of 2020, the 29 Sunset Improvement Project was ready to kick-off a year-long outreach program. When it became clear that the COVID-19 pandemic was a serious concern in March 2020, SFMTA supported the City's response and rapidly adapted to the dynamic public health situation. 
The same transit planning, transit engineering and communications staff who oversee the development of projects like the 29 Sunset were also responding to the changing transportation needs of San Francisco's residents and workers. Longer-term projects that benefit from comprehensive public engagement were put on hold as staff prioritized Temporary Emergency Transit Lanes (TETL) and service changes to bring back Muni routes incrementally over the past year.   
29 Sunset as Core Service 
The 29 Sunset, a Muni Equity route and a critical cross-town route, was prioritized throughout the ongoing pandemic. It was one of the key 17 routes as part of the Muni Core Service network in April 2020 when service was drastically scaled back due to resource constraints. Frequency was increased to support the potential reopening of schools in August 2020 and continues to be monitored to support social distancing and minimize crowding. 
Next Steps 
Though we continue to work on the upcoming Fall 2021 service change, staff has been able to dedicate more time to pick up projects that were previously put on hold. While we emerge gradually from the pandemic, SFMTA is also monitoring our ridership demand and resource constraints to make adjustments to service in future opportunities.   
We're excited to relaunch the 29 Sunset Improvement Project outreach with a multilingual survey that can be taken online or conveniently through text messaging on your mobile phone. The survey will remain open throughout the entire outreach process.  
Once school starts in August 2021, the project team will continue to engage with youth stakeholders, with broader community outreach in the southeast neighborhoods. We have also heard a lot of excitement about a potential 29R Sunset Rapid from youth and transit advocates. Designing a Rapid network requires an understanding of how customers use a route, as well as feasible operations so that the 29 Sunset can travel across San Francisco safely and reliably. 
Input from stakeholders will help determine priorities that will directly shape a near-term improvement proposal.  How do people use the 29 Sunset? Where is there room for improvement? If trade-offs are necessary, what's more important? (For example, a longer walk to the stop in exchange for a faster trip.) 
Robust outreach takes time to do thoughtfully so we appreciate your patience and understanding with SFMTA project staff who are coordinating across teams and diverse stakeholders to bring the 29 Sunset Project to reality. Potential implementation will target late 2022 and is dependent on several factors such as design complexity, agencywide funding and operator availability.  
Project Background
The 29 Sunset serves 18,800 daily riders in the Bayview, Excelsior, Park Merced, Sunset and Richmond neighborhoods. It is one of the longest bus routes in the Muni system and has high ridership throughout the day. Over the past year, we have heard from many Muni customers about their experiences on the 29 Sunset, particularly from students who rely on this route to get to school, that more service is needed to serve all of those who wish to ride. 
To identify the most effective way to improve service for 29 Sunset customers, the SFMTA has committed resources to develop a project plan with community members. A key objective is to reduce pass-ups, or when people waiting for the bus are not able to board because the bus is too crowded.  
Another issue that the project seeks to address is long travel times due to congested segments and frequent stopping. The 29 Sunset Improvement Project is the first holistic effort in recent memory to invest in this route for current and future users and promises to deliver significant transportation improvements to the southern and western neighborhoods of San Francisco.
Route Characteristics 
The 29 Sunset route connects a significant number of educational institutions, from elementary schools to colleges. Nearly 12% of all passengers on the 29 Sunset identify as students compared to 9% systemwide. The 29 Sunset is also identified as a route by a high percentage of users from households with low incomes and people of color in the Muni Service Equity Strategy. The Strategy, drafted biennially by SFMTA staff, identifies the lines prioritized for significant service improvements to make transit accessible and reliable to all our passengers. 
In general, prior to the COVID-19 pandemic in March 2020, the percentage of scheduled trips delivered on the 29 line has been relatively high (95% in the past year) compared to systemwide. A significant factor behind this is its status as a route that serves neighborhoods identified by the Muni Service Equity Strategy, which enjoys priority in the face of Muni's ongoing operator shortage.  
On occasion, however, the 29 Sunset has missed service as Muni directs operators to other critical lines given the operator shortage. When a run or shift on the 29 Sunset is not filled, there are longer wait times for riders and crowded conditions on buses that are out for service.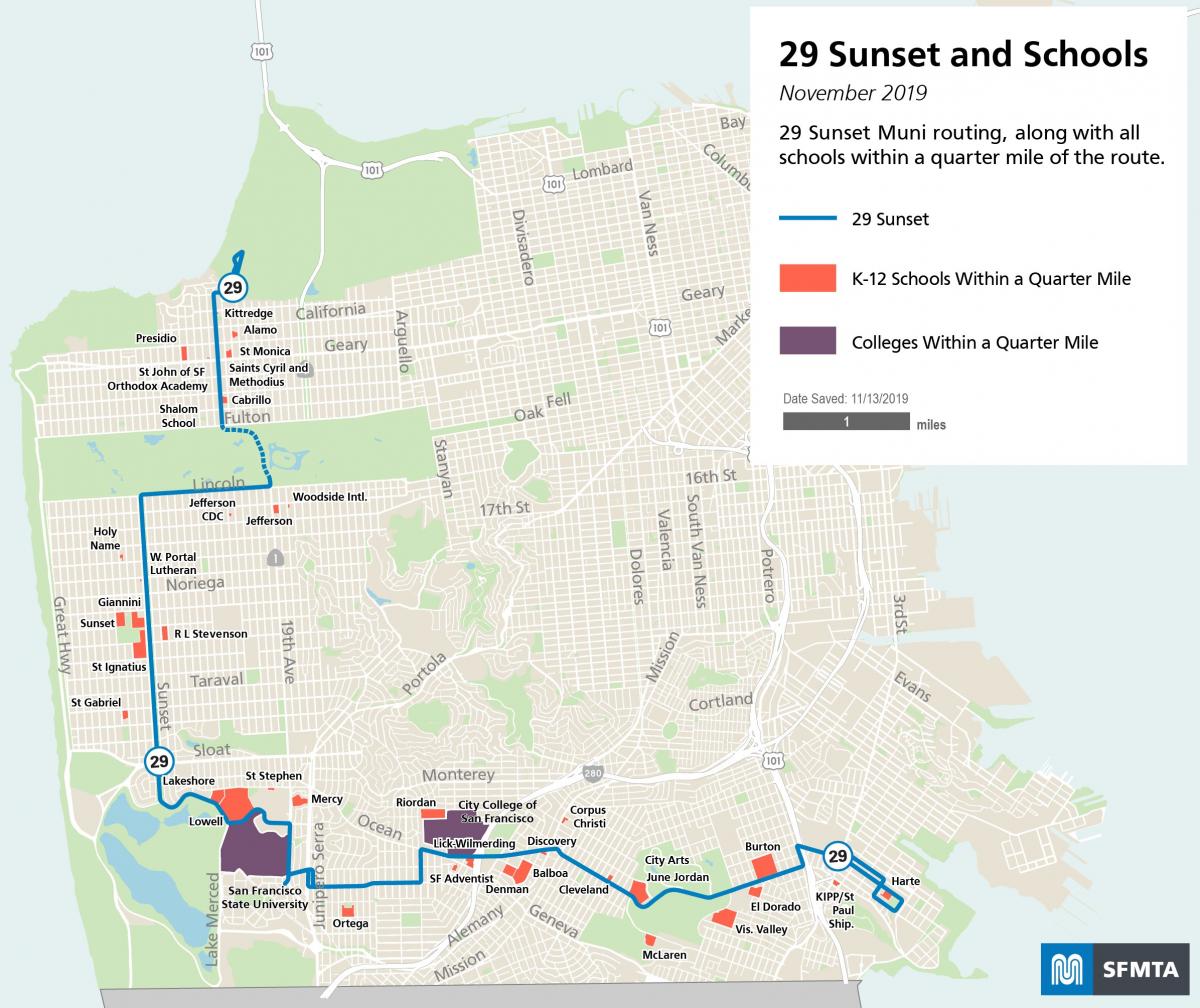 Recent Improvements 
In 2013, the SFMTA Board adopted the Free Muni for Youth program for youth ages 5 to 18 from families with low to moderate incomes. Over the last three years, travel time along the route has also improved by 3 minutes, and service was increased to meet school demand. The 29 Sunset Improvement Project will build on these improvements and provide a roadmap to meeting current and future demand along the route. 
Outreach with School Communities 
Since spring 2019, we have been working with the Lowell Peer Resources class and, in the process, developed a brief curriculum to educate students on transit planning fundamentals such as survey development and deployment. The opportunity to work with local students is a mutually beneficial effort to teach students about civic processes and encourage their participation in conducting outreach with their peers.  
As the fall 2021 academic year begins, we will prioritize outreach within Bayview and Visitacion Valley. Residents there also rely on the 29 Sunset as well as schools served by the 29 Sunset, including Burton and Balboa High Schools and SF State and City College.  
Through the outreach process in 2021-2022, the project team aims to understand how people use the 29 Sunset and determine where and when challenges such as pass-ups and missed service are experienced.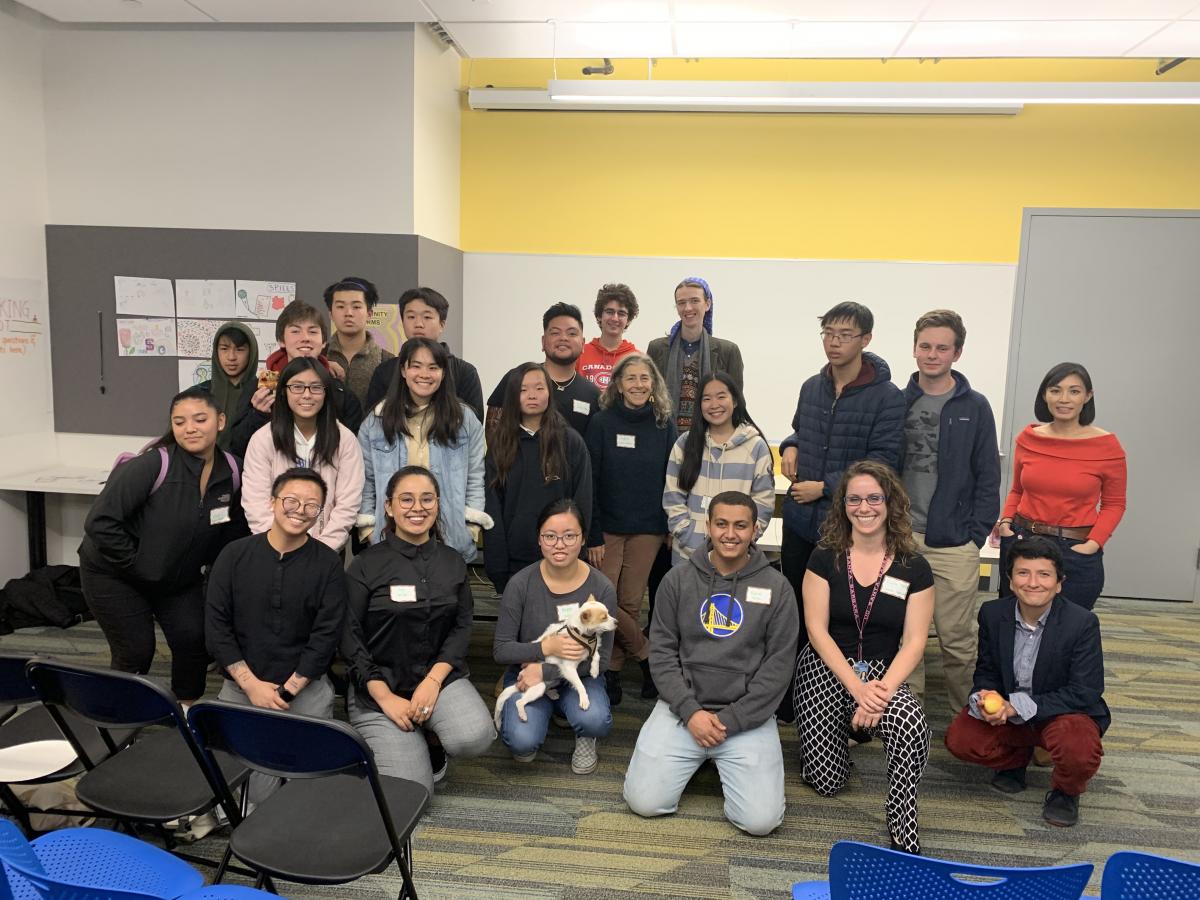 Project staff with the San Francisco Youth Commission after a 29 Sunset meeting in November 2019
Project Timeline
Winter 2022 - Spring 2022
Spring 2022 - Summer 2022
Bus Routes and Rail Lines
Contact Information
Jean Long, Project Manager, SFMTA Transit Planning
Steve Boland, Project Manager, SFMTA Transit Planning
Shalon Rogers, Public Relations Officer, SFMTA Communications & Marketing