29 Sunset Improvement Project
Project Introduction
The 29 Sunset serves 18,800 daily riders in the Bayview, Excelsior, Park Merced, Sunset and Richmond neighborhoods. It is one of the longest bus routes in the Muni system and an efficient route with consistent customer demand and ridership throughout the day. Over the past year we have heard from many Muni riders about their experiences the 29 Sunset, particularly from students who rely on the 29 line to get to school, that more service is needed to serve all of those who wish to ride.
To identify the most effective way to improve service for 29 Sunset customers, the SFMTA has committed resources to develop a project plan with community members. A key objective is to reduce pass-ups, or when people waiting for the bus are not able to board because the bus is too crowded. Another issue that the project seeks to address is long travel times due to congested segments and frequent stopping. The 29 Sunset Improvement Project is the first wholistic effort in recent memory to invest in this route for current and future users and promises to deliver significant transportation improvements to the southern and western neighborhoods of San Francisco.
 
Route Characteristics
The route connects a significant number of educational institutions, from elementary schools  to colleges. Nearly 12% of all passengers on the 29 Sunset identify as students compared to nine percent systemwide. The 29 Sunset is also identified as a route by a high percentage of users from households with low incomes and people of color in the Muni Service Equity Strategy. The Strategy, drafted biennially by SFMTA staff, identifies the lines prioritized for significant service improvements to make transit accessible and reliable to all our passengers.
In general, service delivery on the 29 line has been relatively high (95% in the past year) compared to systemwide. A significant factor behind this is its status as an Equity Route, which enjoy priority in the face of Muni's ongoing operator shortage. On occasion, however, the 29 Sunset has missed service as Muni directs operators to other critical lines given the operator shortage. When a run, or shift, on the 29 is not filled, it means that there are longer wait times for riders and crowded conditions on buses that are out for service. In 2020, the SFMTA is focused on the hiring, training and retention of operators to fill these gaps, and we anticipate to reach a healthier level of operator availability in late 2021 for a significant decrease in missed service.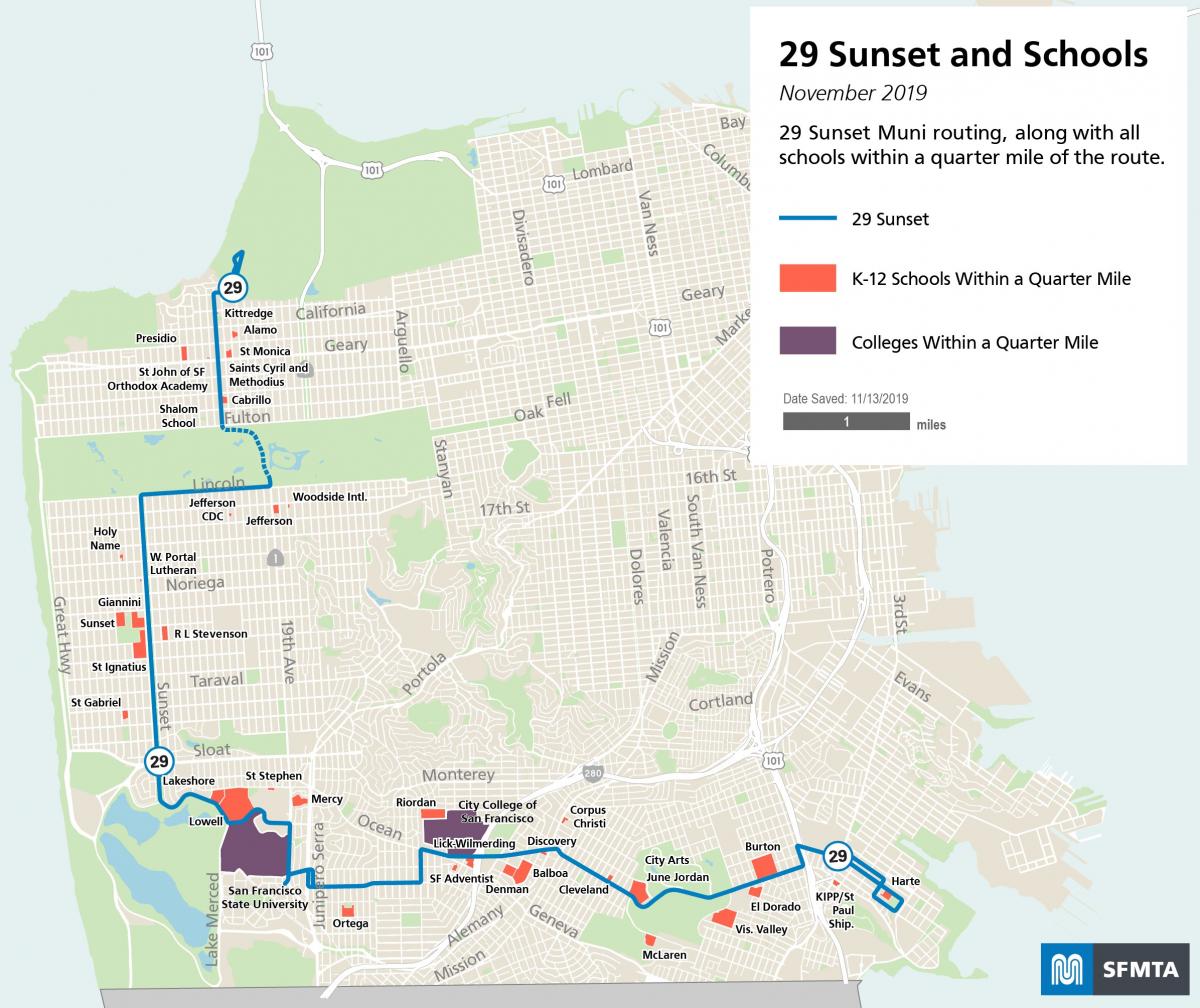 Recent Improvements
In 2013, the SFMTA Board adopted the Free Muni for Youth program for youth ages 5 to 18 from families with low to moderate incomes. A marked increase in ridership, likely as a result of the the increase in access for young people, is evident in Muni ridership data. Over the last three years, travel time along the route has improved by 3 minutes and frequent service early in the morning was increased to meet school demand. In 2017, a morning school "tripper" was added to increase service during school peak. Despite these efforts, however, demand continues to far exceeding the current capacity of the 29 Sunset. The 29 Sunset Improvement Project will build on these improvements and provide a roadmap to meeting current and future demand along the route.
Next Steps
The SFMTA project team has begun reaching out to key stakeholders, including Lowell High School and the San Francisco Youth Commission to start gathering feedback and suggestions. Broader community outreach to stakeholders is anticipated to begin in January 2020 and continue through early 2021. Input from stakeholders will help determine priorities that will directly shape a near-term improvement proposal. Project implementation is expected in Fall 2021 and is dependent on new project funding and operator availability.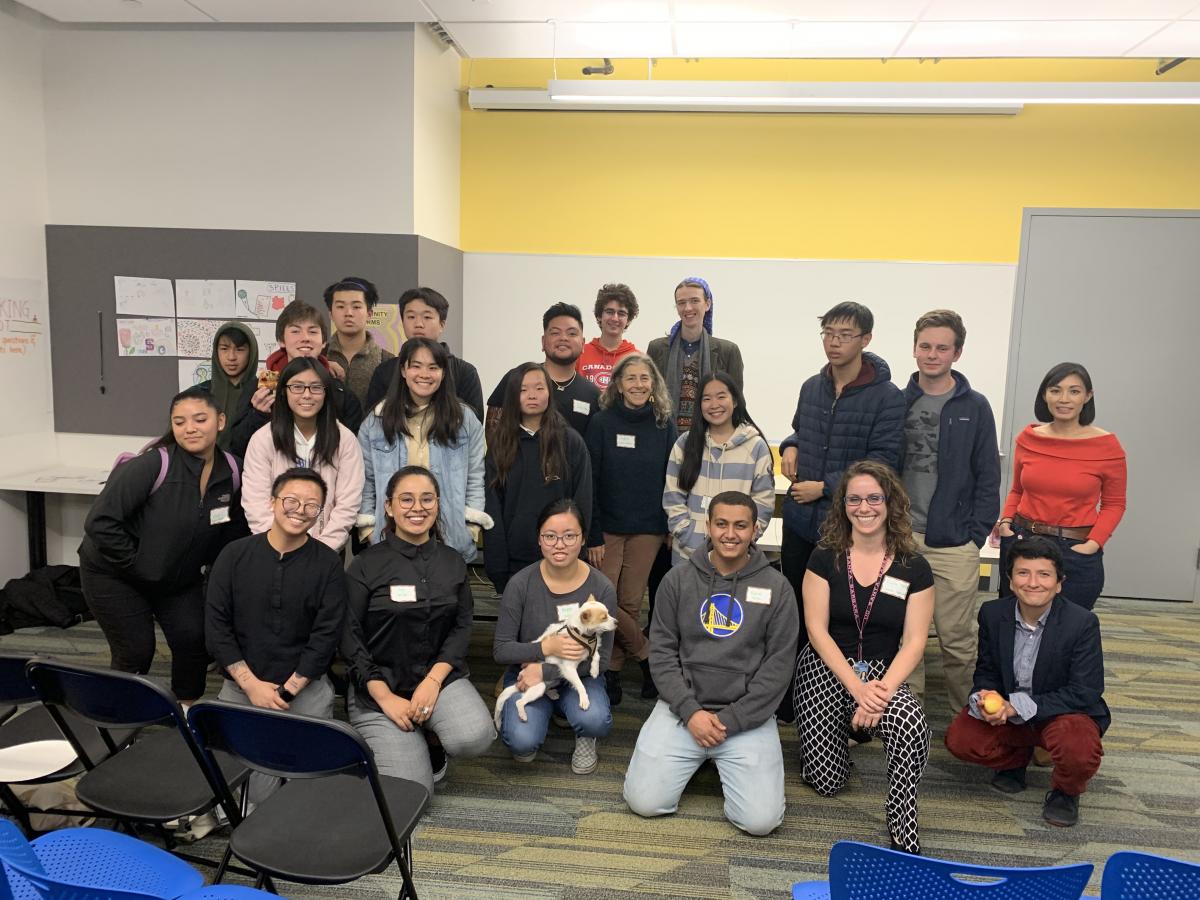 Project staff with the San Francisco Youth Commission after a 29 Sunset meeting in November 2019
Project Timeline
Winter 2021 - Spring 2021
Spring 2021 - Summer 2021
Bus Routes and Rail Lines
Contact Information
Jean Long, Project Manager
Evan Knopf, Deputy Project Manager
Enrique Aguilar, Public Information Officer