Celebrate Muni's Birthday with 75 Years of Historic Photos!
Friday, December 28, 2018
We're celebrating Muni's 106th birthday today with a special present for all you history buffs out there. The SFMTA Photo Archive staff have now digitized and published online 75 consecutive years of transit history! Now you can search, browse and view over 20,000 photos taken between 1903 and 1978.
Here's a quick trip back in time to sample some of the many photos we've made available. These shots come from four of the main photographers whose work makes up the bulk of this 75-year period.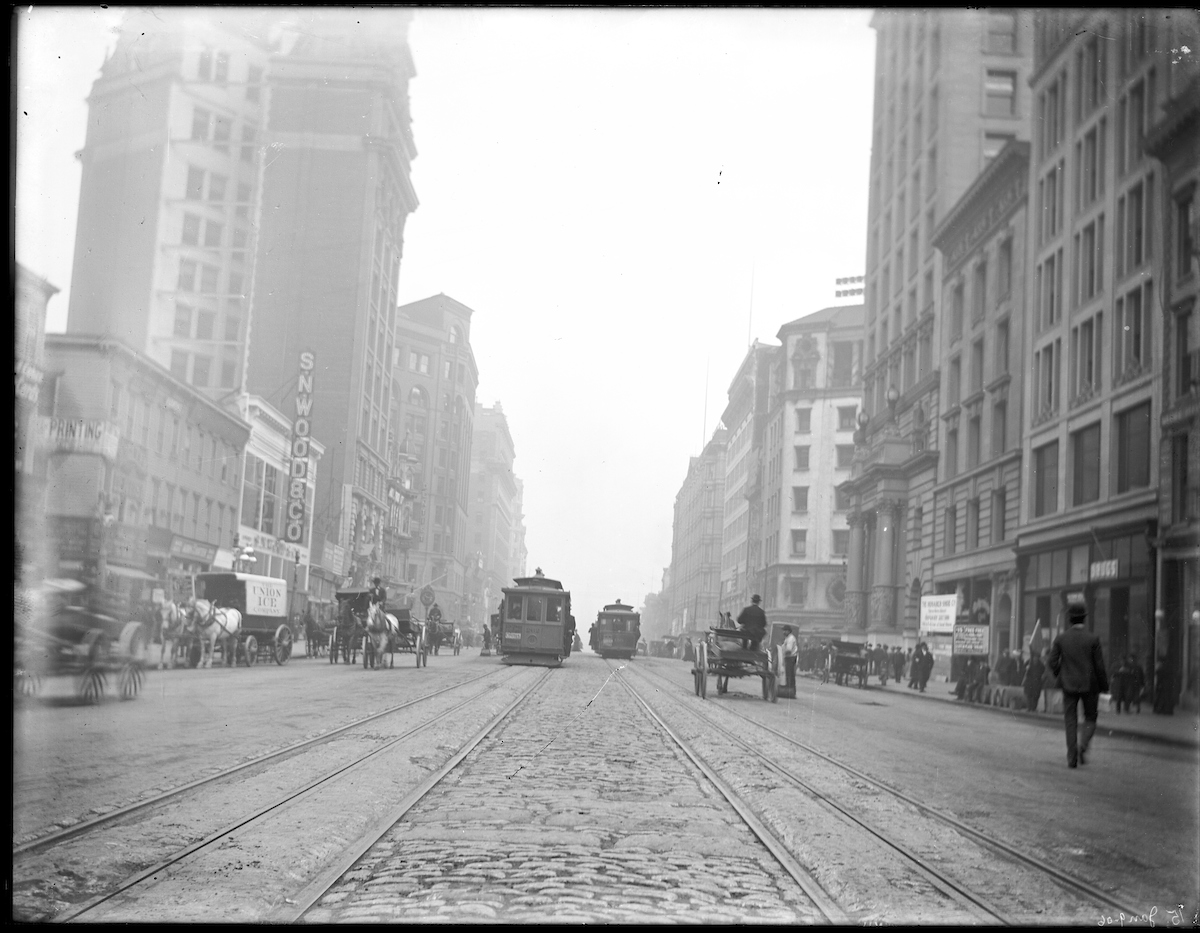 A view down Market Street taken in January 1906, just a few months before the 1906 Earthquake and Fire that destroyed every building pictured here. Note that those are cable cars running on Market, not electric streetcars like those running today.
The earliest works we have come from John Henry Mentz, a photographer working for the United Railroads of San Francisco (later Market St. Railway Company). His work spans from 1903 to 1944 and contains many striking street scenes showing the evolution of transit and the city during those 40 years.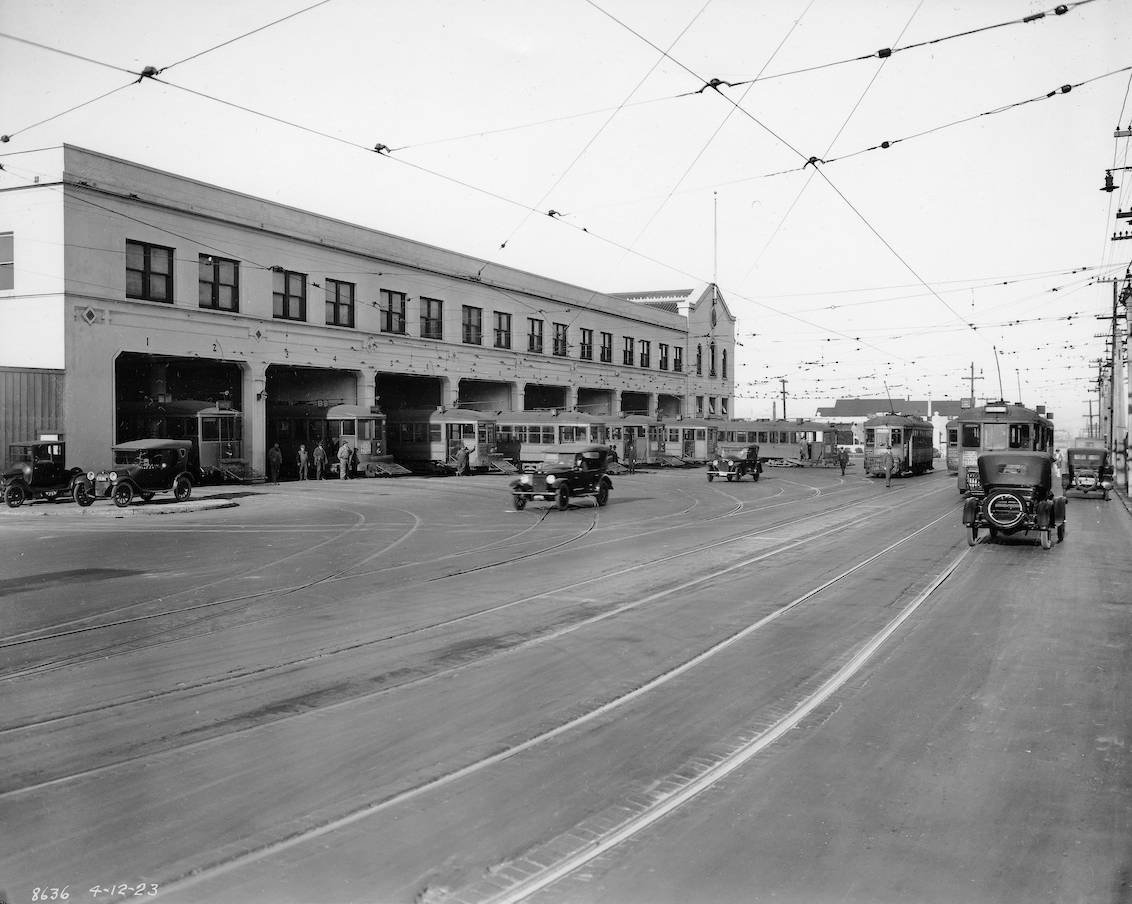 Muni's original headquarters is shown in this 1923 photograph. Today the building houses Presidio Division, home of Muni's fleet of 40-foot trolley coaches that serve lines like the 21 Hayes, 3 Jackson, and 1 California.
In 1912, photographer Horace Chaffee, who worked for the Board of Public Works, began photographing the birth of the Municipal Railway. For about 30 years, he made photos of tracks being laid, buildings under construction, and new streetcars and buses purchased for the city's transit provider. In addition to all of our Muni shots by Chaffee, an incredible number of his photographs have been digitized by our good friends at the Western Neighborhoods Project and are available on their site OpenSFHistory.org.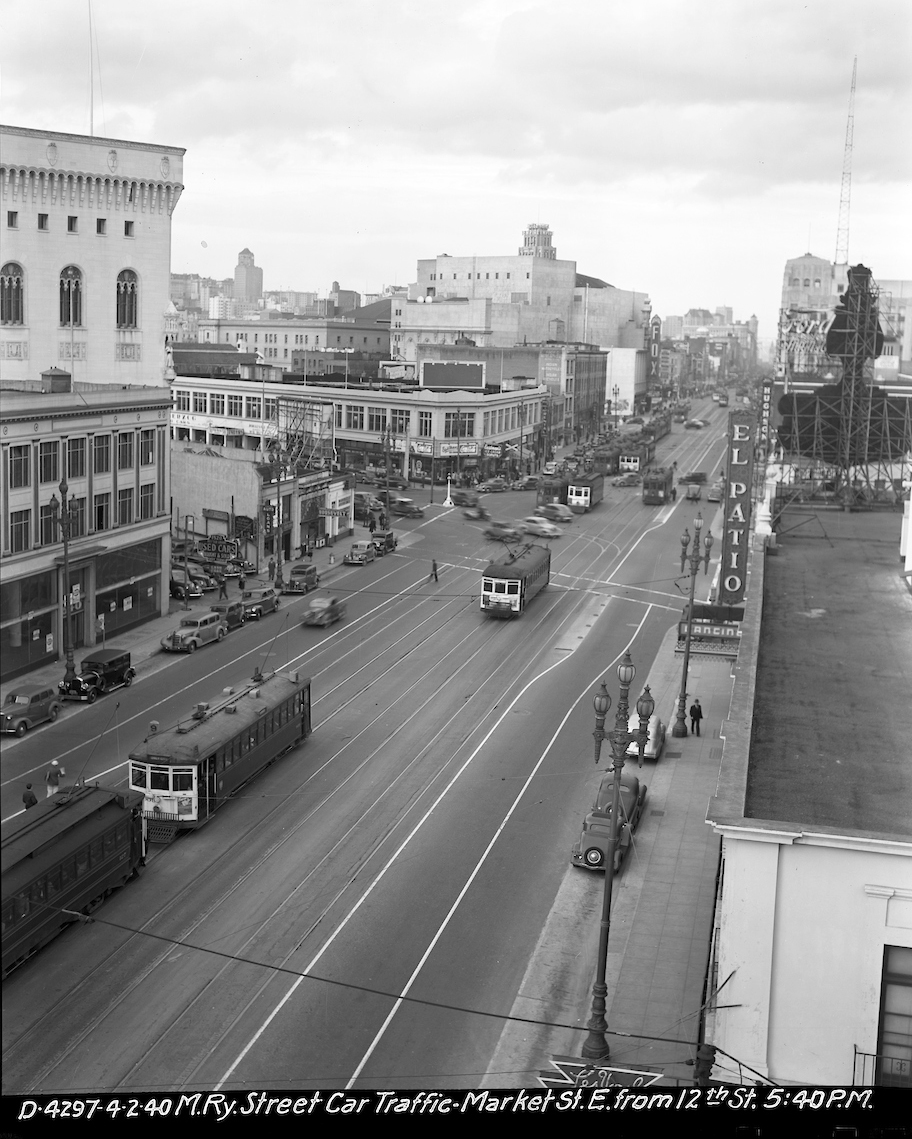 This April, 1940 view looks east up Market Street from about 12th Street. Note the four streetcar tracks dominating the center of Market, the center tracks were owned & operated by the Market Street Railway Company and the outer by Muni.
During the 1930s, the city purchased the privately owned Spring Valley Water Company (SVWC) and combined the management of water, sewer, and power utilities plus the Municipal Railway and Airport under the Public Utilities Commission. During consolidation, SVWC photographer George Fanning, continued his employment under the PUC, photographing water and sewer infrastructure as well as Muni scenes from about 1932-1945. Taken on large, 8x10" negatives, his photographs hold incredible detail and clarity.

Taken outside the Cable Car powerhouse and barn on Washington and Mason Streets in 1965, this scene could almost be mistaken for present day, with a timeless Cable Car rolling past full of passengers.
In 1945, photographer Marshall Moxom began his 33-year career at the PUC shooting Muni, Water, and Airport scenes. While most previous photographers mainly took documentary shots of equipment, construction, and streets, with the occasional formal portrait or posed group photo, Moxom's work expanded the range of subjects exponentially. Employees receiving awards, internal parties, public events, portraits, and promotional shots became routine subjects, in addition to documentation similar to his predecessors.

Wrapping this set up is a great 1977 shot of a Muni driver dressed as Santa Claus waving from the steps of a Flyer trolley coach signed for the 21 Hayes route.
These 75 years of photos represent a major span of time covered by our photo collections, which range from 1903 to present day. The work to scan, catalogue, and make publicly available is just part of our ongoing mission to preserve and archive the over 100,000 images in our files. Initial funding for this work was provided through generous grants from the Historic Preservation Fund Committee.
We hope you enjoyed this sampling. Check out the full set of photos at the SFMTA Photo Archive website and follow us on Instagram for even more.