The First Weekend of Spring Shines for Sunday Streets
Wednesday, March 21, 2018
Inner Sunset Construction resumes this Saturday, March 24. Bus shuttles will provide N Judah Line service between Ocean Beach and Duboce Avenue and Church Street all-day Saturday. N Judah trains will operate between Duboce Avenue and Church Street and Caltrain. Several N Judah train stops will be temporarily relocated. Customers are advised to include extra travel time when taking the N Judah during this Saturday's closures. Regular N Judah train service will resume with the start of Sunday morning service.
Events: On Saturday, March for our Lives will hold a rally in Civic Center Plaza followed by a march down Market Street to The Embarcadero. Downtown Muni service will have reroutes.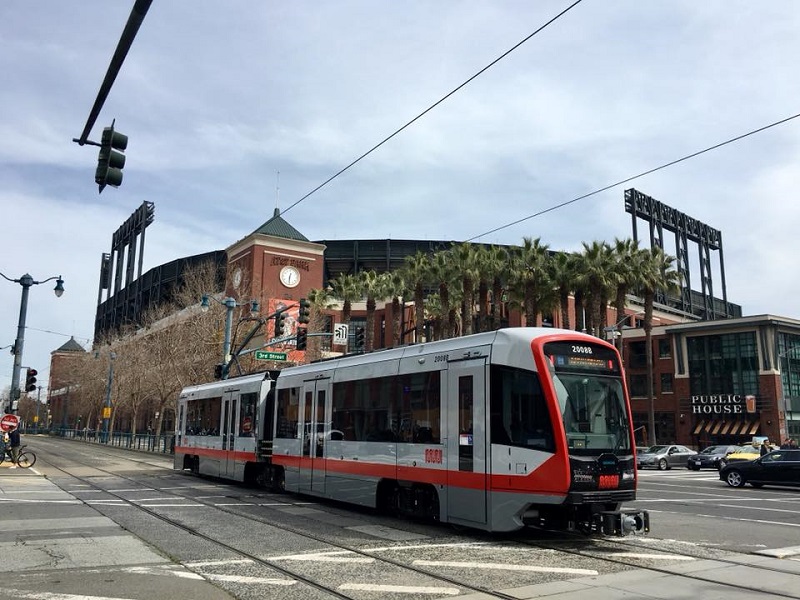 Muni will take baseball fans to and from the ballpark every gameday! Photo: Erik Wu
Sunday Streets: The Excelsior
Sunday, 11 a.m. to 4 p.m.
Execlsior District
Due to increasing popularity, this year Sunday Streets will host two events in the Excelsior. The first is this Sunday with the second scheduled for the fall. Boasting the highest numbers of families and young people, the Excelsior also has a claim to being the city's most diverse neighborhood. Visitors to the Excelsior will see colorful murals, an array of ethnically diverse eateries, fresh produce markets and seasonally-themed windows at the neighborhood's landmark Central Drug Store. 
---
How to Get There on Muni: Riders can take the 8 Bayhsore, 14 Mission, 14R Mission Rapid, 29 Sunset, 43 Masonic, 44 O'Shaughnessy, 49 Van Ness/Mission, 52 Excelsior, and 54 Felton routes.
Muni Service Notes: The 14 Mission, 14R MIssion Rapid, 49 Van Ness/Mission, and 52 Excelsior will have reroutes.
Giants Baseball
Monday and Tuesday, varying game times
AT&T Park
2018 marks the Giants' 60th season in San Francisco and with Opening Day just around the corner the G-Men welcome the Oakland Athletics to AT&T Park on Monday and Tuesday night for the final two preseason games.
---
How to Get There on Muni: Giants fans can take the E Embarcadero, N Judah, T Third, Metro Ballpark Shuttle trains, 10 Townsend, 30 Stockton, 45 Union/Stockton, 47 Van Ness.
Muni Service Notes: Due to increased traffic on game days, Muni service to and from downtown may see residual impacts. Muni customers should allow for extra travel time.
"On Tap" gives you a heads up about the big events in town and what Muni routes and lines will get you to the party. Look for this feature to be posted usually on Wednesdays for a look ahead to the weekend. Check out our Weekend Traffic & Transit Advisory for more details.