Independence Day Weekend: Fireworks and the Fillmore Jazz Fest
Fourth of July: Extra Muni Service, Parking Will Be Enforced
This Thursday, the 4th of July holiday, Muni will operate on a Sunday schedule and extra Muni service will be provided to and from the fireworks display on The Embarcadero.
Parking Restrictions Enforced: Seven-day street sweeping restrictions and parking meters (including those meters on Port of San Francisco property) will be enforced.
Parking Restrictions Not Enforced: Residential parking permit, Monday through Friday street sweeping and commuter tow-away restrictions will not be enforced. For complete details, visit the holiday enforcement schedule webpage.
Read more about getting to the July 4th fireworks and this weekend's featured events below.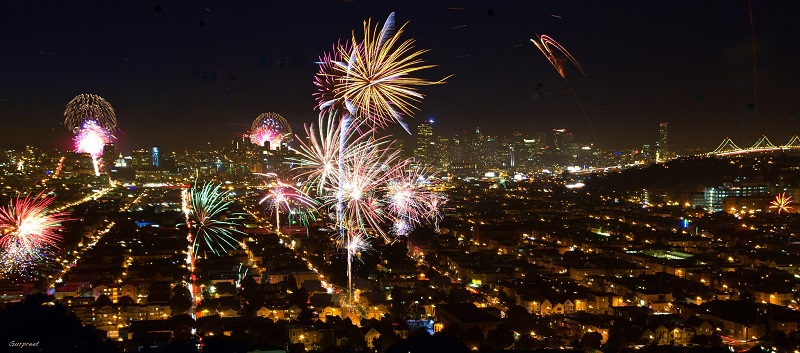 Some "unofficial" July 4th celebrations over the Mission neighborhood compete with the official celebration near Pier 39. Photo: GPS/Flickr
Fourth of July Fireworks
Thursday, 9:30 p.m.
Municipal Pier
Celebrate America's 243rd birthday along the northern waterfront at Municipal Pier with the annual spectacle of fireworks. Revel as the night sky - which will hopefully be fog-free - is painted in hues of red, white and blue. Remember too, that even though we are well into the summer, nights along The Embarcadero can be chilly, so dress in layers to help keep warm.
---
How to Get There on Muni: Revelers may take the E Embarcadero and F Market and Wharves lines, the Powell-Mason and Powell-Hyde cable car lines, as well as the 8 Bayshore, 19 Polk, 28 19th Avenue, 30 Stockton, 39 Coit, 47 Van Ness or 49 Van Ness/Mission routes to near the festivities along the wharf.
Muni Service Notes: Due to street closures and an influx of pedestrian traffic, utilize the Muni Metro subway to Embarcadero Station. Muni will provide extra service in the Metro subway to Embarcadero station. Muni will also provide pre and post event shuttle service. The Hyde and Mason cable car lines, E and F streetcar lines and the 8, 19, 28, 30, 39, 47, 49 routes will have reroutes during this event. 
Fillmore Jazz Festival
Saturday and Sunday, 10 a.m. to 6 p.m.
Fillmore District
The Fillmore Jazz Festival, now in its 36th year, has become the largest jazz festival on the West Coast. Spread out over 12 blocks along Fillmore Street between Jackson and Eddy streets, this festival recalls the neighborhood's deep and rich musical roots. In addition to multiple music stages featuring various forms of jazz, there will also be fine art and gourmet food booths.
How to Get There on Muni: Riders may take the 1 California, 2 Sutter/Clement, 3 Jackson, 10 Townsend, 22 Fillmore, 24 Divisadero, 31 Balboa, 38 Geary, or the 38R Geary Rapid routes to the festival area.
Muni Service Notes: The 3, 22 and 24 routes will have reroutes in the area of the event. All other routes in the area may see increased ridership and some minor delays.
Remember that you can take Muni for the entire day for a single $5 fare. The new $5 Day Pass, available on MuniMobile®, is part of Muni's recent fare changes. The pass is intended to encourage a safe, convenient way to pay your fare and quickly board Muni vehicles, which reduces overall travel time for everyone. The $5 Day Pass is Muni bus, rail and historic streetcars only.
"On Tap" gives you a heads up about the big events in town and what Muni routes and lines will get you to the party. Look for this feature to be posted usually on Thursdays for a look ahead to the weekend. Check out our Weekend Traffic & Transit Advisory for more details.