Southeast San Francisco Residents Speak Up for More Mobility
The start of the 15 Bayview line on January 23 signals the SFMTA's strengthening commitment to the diverse neighborhoods in southeast San Francisco, which have for too long seen disinvestment and a lack of sufficient transportation infrastructure. This commitment  extends to neighborhoods from Mission Bay to Visitacion Valley that have seen a surge in infill development such as the Chase Center, Visitacion Valley/Schlage Lock Plan and Candlestick Point and Hunters Point Shipyard. To begin to correct historical inequities and support this new growth, the SFMTA has been steadily engaged in bringing transportation improvements to residents, merchants, businesses and visitors to this important area.
Voice of the Community
From 2017 to 2019, the Southeast Muni Expansion project partnered with the Muni Service Equity Strategy, the Bayview Community Based Transportation Plan, and The San Francisco County Transportation Authority's (SFCTA) District 10 Mobility Study project teams to conduct community outreach and collect feedback around community mobility needs and what Muni service performance improvements should be prioritized.
Southeast Muni Expansion Outreach
Because funding sources for transportation are limited, the Southeast Muni Expansion project team surveyed community members to review ten proposed options involving Muni bus routes, route extensions and reroutes, and more frequent service on existing bus routes that could be incorporated in the Candlestick Point-Hunters Point Development Transportation Plan.  The survey helped rank the community's preferences, determining the order in which they can be planned and implemented.
Survey Results
The survey produced the following top three choices:
Option 4 – A new bus route between the Mission and Bayview neighborhoods

Option 7 – Improve the 29 Sunset bus route

Option 9 – A new express bus route between the Bayview and downtown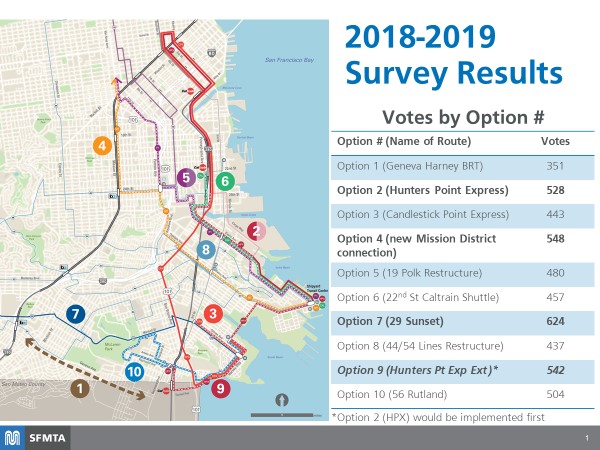 Results of the 2018/2019 survey
The  implementation of new bus service according to these priorities will also take into account any changes that may occur in the timeline for the Candlestick Point-Hunters Point development projects. In addition, we continue to review potential funding sources and a timeline for implementing additional service improvements.
Ongoing Service Improvements
In 2007 we inaugurated the T Third Light Rail service that links Sunnydale and Embarcadero Muni Metro Station, improving downtown transit access for the Bayview and Visitacion Valley neighborhoods. Additionally, the Mission Bay Loop between 3rd, 18th, Illinois and 19th streets now enables the T Third line to support both peak period demand and special events at Oracle Park and Chase Center. When completed, the Central Subway Project, will further improve the T Third by directly offering mostly underground service—that doesn't have to contend with roadway traffic—from the 4th Street Caltrain Station to Chinatown.
In 2014, we launched our Muni Service Equity Strategy as a commitment to ensure transit is accessible, reliable, and affordable to all Muni customers. The strategy focuses on service in nine Equity Neighborhoods, including Bayview and Visitacion Valley in the southeast.
In 2019, we initiated the 29 Sunset Improvement Project to gather feedback on possible service improvements from diverse stakeholders, including students, who rely on the 29 Sunset. While those changes are currently on hold due to the COVID-19 pandemic, it remains a key route in the Muni Core Service Plan with frequent service to reduce crowding and support social distancing.  
To ensure that the transportation priorities and needs of neighbors in the southeast were being heard, we began conducting outreach for the Bayview Community Based Transportation Plan utilizing a Caltrans Sustainable Planning Grant. Community engagement resulted in directly administering a $600,000 Metropolitan Transportation Commission grant in areas that have the greatest needs and prompted several Bayview Quick-Build projects.
Learn More
Read a more detailed report on all the projects associated with this effort and receive project updates at SFMTA.com/SouthEastMuni.