Changes to the First Row of Forward Facing Seats
Effective Date: Monday, April 21, 2014, 12:00 am
You've probably noticed changes to the forward facing flip up seats, located near the front of the bus?
Yes! Are these seats broken?
They don't seem to flip down anymore.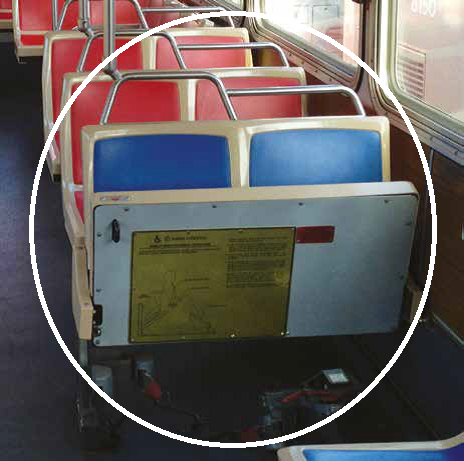 You've probably noticed that on some of our buses, the first row of forward-facing seats are secured in their flipped-up position, with decals explaining they have been taken out of service for safety reasons.  These seats are not broken. They have been removed from use for your safety.
Why is this being done?
SFMTA has taken this safety precaution because several of our bus manufactures have recommended that these seats remain in the upright position.  Unlike other seating options on the bus, these seats do not have a barrier in front of them to protect a person from falling in the event of a sudden stop or collision.
The SFMTA looked at providing a barrier, but determined that the area in front of these seats needs to be left clear, so that a person in a wheelchair or other mobility device can get into and out of the securement area.
Over the course of the next few months, the SFMTA will disable the remainder of these forward-facing flip up seats.  
How is this safer?
When passengers are seated, they often are not prepared to brace themselves if the driver were forced to make a sudden stop. Usually this is not an issue as most seats on a bus have a barrier in front of them.
Removing these seats from service will require passengers to stand in this area. Passengers who stand are often prepared to brace themselves if the driver were forced to make a sudden stop.  We do realize that disabling these seats does create an inconvenience, as now you may need to stand during your trip. Unfortunately, we have not been able to find another solution, and these seats will be permanently flipped up.
We apologize for any inconvenience this may cause.
For those who stand in this area: Please mind the securements.
There are two securements, located at the base of the forward facing seats, which are used to help secure wheelchairs and other mobility devices.  Make sure you are aware of their location, so that you do not trip over them.
What about those new buses? Will they have this seating issue?
The SFMTA is in the process of replacing its entire fleet. All of the buses in SFMTA's new fleet, including the recently delivered new hybrid buses, have a different seating configuration which addresses this safety concern. The SFMTA expects to replace our entire fleet with these new buses within 4-5 years, at which point the older buses with the flipped-up seats will be retired.
I need a seat. What can I do to make sure I get one?
If you need to sit down because cannot stand safely on a moving bus, please board through the front doors of the bus, and tell the bus driver that you need a seat. The driver will help you request one. You can also ask other passengers to give you a seat.
Seats in the front area of the bus are reserved for seniors and people with disabilities.  On newer buses, these seats are colored blue.

A reminder to people who are seated:
If you are able to stand on a moving bus, offer your seat to passengers who are having a more difficult time standing.  Please remember to do this even if you are not seated in the reserved seating area.