Battery-Electric Bus Program
Improvements
Progress towards eliminating motor coach fleet greenhouse gas emissions
Bus Routes and Rail Lines
Project Update: In June of 2023, the SFMTA was awarded the Low- or No-Emission Grant for 33 million in federal funds. The grant will fund the installation of 18 electric vehicle charging stations with inverted pantographs and structural platforms at the Woods and Islais Creek bus yards. These new charging stations are a critical step in advancing San Francisco's Zero Emission Bus Rollout Plan.
We have placed orders for three battery-electric buses each from New Flyer, BYD USA, Proterra, and Nova Bus to determine the current state of battery-electric bus technology. After some initial testing, they will go into regular revenue service in order to evaluate their performance, reliability, comfort, and maintainability in San Francisco's operating environment. After the evaluation period, the SFMTA will develop its future procurement strategy in conjunction with the SFMTA's Zero Emission Bus Rollout Plan.
The first ten battery-electric buses have now entered revenue service, achieving a significant milestone in the agency's greater goal of an all-electric fleet and a carbon-neutral San Francisco by 2040, as explained in the SFMTA's Sustainability and Climate Action Program. 
These buses will be tested on some of our most challenging routes, including on the 9 San Bruno, 22 Fillmore, 29 Sunset, and 44 O'Shaughnessy lines. Production of each bus typically takes 12 weeks. The manufacturers inspect and test their buses before shipping them, we then perform further testing and inspections prior to accepting the vehicle.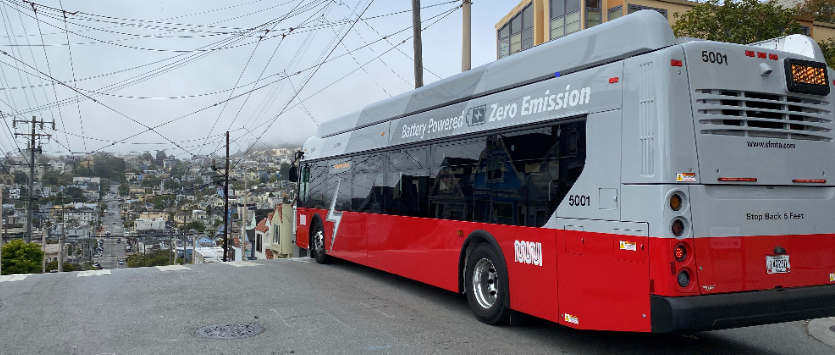 The battery-electric buses have enhanced features that are new to the SFMTA's fleet. If they are found to be beneficial, these features may be included in future vehicle procurements. To operate these pilot vehicles, we are installing charging infrastructure at select maintenance facilities. A vehicle charger has been installed at the Marin bus acceptance facility, and in 2021 a set of twelve electric chargers were installed at the Woods maintenance facility. 
Environmental Commitment 
San Francisco is committed to achieving net-zero greenhouse gas emissions by 2040. The SFMTA, which has operated a network of zero-emission vehicles for almost 85 years, will play a key role in achieving this goal. Throughout our agency's history, we have consistently and proactively pursued and implemented the latest in green transportation technologies. Today, the SFMTA accounts for less than two percent of the City's transportation-related GHG emissions and operates the greenest transit system of any major city in North America.
We are doing our part to eliminate San Francisco's carbon footprint by making our transit fleet even greener. In May 2018, the SFMTA announced its commitment to having an all-electric bus fleet by 2035. Before purchasing battery-electric buses (BEBs), our agency will facilitate a pilot to ensure BEBs have what it takes to meet our riders' needs. Whether we are investing in new sustainable technologies or modernizing our existing fleet, the SFMTA is consistently creative, innovative, and forward-thinking.
Program Background
We are committed to ensuring that BEBs can deliver the same standard of reliability and service as our current hybrid-electric bus fleet. In recent years, the transit industry has witnessed significant progress in battery-electric technology. However, the question remains of whether BEBs can handle San Francisco's heavy transit ridership and hilly routes. To answer this question, the SFMTA will implement and evaluate a battery-electric bus pilot program.
The agency will procure three 40-ft buses each from three different BEB manufacturers and test their performance in revenue service for 18 months. Throughout the project, an online system will collect detailed data on the BEBs' performance. At the end of the test program, the SFMTA will evaluate the feasibility of operating an all-electric bus fleet, and the pilot battery buses will continue to be used in regular revenue service.
The BEB program serves as a first step towards achieving the greater goals of an all-electric fleet outlined in the SFMTA's Zero Emission Bus Rollout Plan and a carbon-neutral San Francisco by 2040. Additionally, this project contributes to the City's Climate Action Strategy goals and supports the City's voter-approved Transit-First Policy established in 1973.
Benefits of Battery-Electric Buses
1. Environmental benefits
BEBs generate zero greenhouse gas emissions because they are powered by a battery in their operating system rather than fuel.

Like our other zero-emission vehicles, the BEBs will run on 100% greenhouse gas-free

Hetch Hetchy

hydroelectric power.

BEBs don't produce harmful exhaust that reduces air quality.
2. Service improvement features
BEBs

are easier and less expensive to maintain,

which will allow the SFMTA to dedicate more resources to serving our passengers.

BEBs have significantly reduced noise levels, making them more pleasant 

for riders and pedestrians

.