More Muni Forward Service Improvements Roll Out February 25
Friday, February 17, 2017
As part of our ongoing efforts to move Muni Forward, we're launching a package of small but important service adjustments on Saturday, February 25.
Based on feedback from Muni riders, we're increasing service and on popular routes, adding bigger buses on the 5 Fulton and making stop and schedule adjustments to make service faster, roomier and more reliable.
Here are all of the Muni lines and routes affected – find the full details below:
F Market, L Taraval, L Owl, 5/5 Rapid, 5 Owl, 7X, 8AX/BX, 10, 12, 25, 27, 28 Rapid, 29, 48

A 60-foot New Flyer bus at Muni's Flynn Division.
Bigger Buses for 5 Fulton Local Service
We're adding more of our bigger, 60-foot trolley buses to provide more room for riders on 5 Fulton local and Rapid service, following their introduction to the 5R Fulton Rapid last year. The route will get even better and safer later this year with street improvements planned along McAllister Street as part of the 5 Fulton Rapid Project.
28R 19th Avenue Rapid Changes
New stop at 19th Ave. and Noriega: To make the 28R 19th Avenue Rapid convenient for more people to use, we're adding a stop at 19th Avenue and Noriega Street in both directions. We've heard requests for 28R service at this location, and we're excited to offer neighbors better access to the route.
Route change near Balboa Park: The southern portion of the 28R route will be shortened to make service more reliable. Specifically, the last stop for the 28R will be moved from Mission Street and Geneva Avenue to the Balboa Park BART/Muni Station.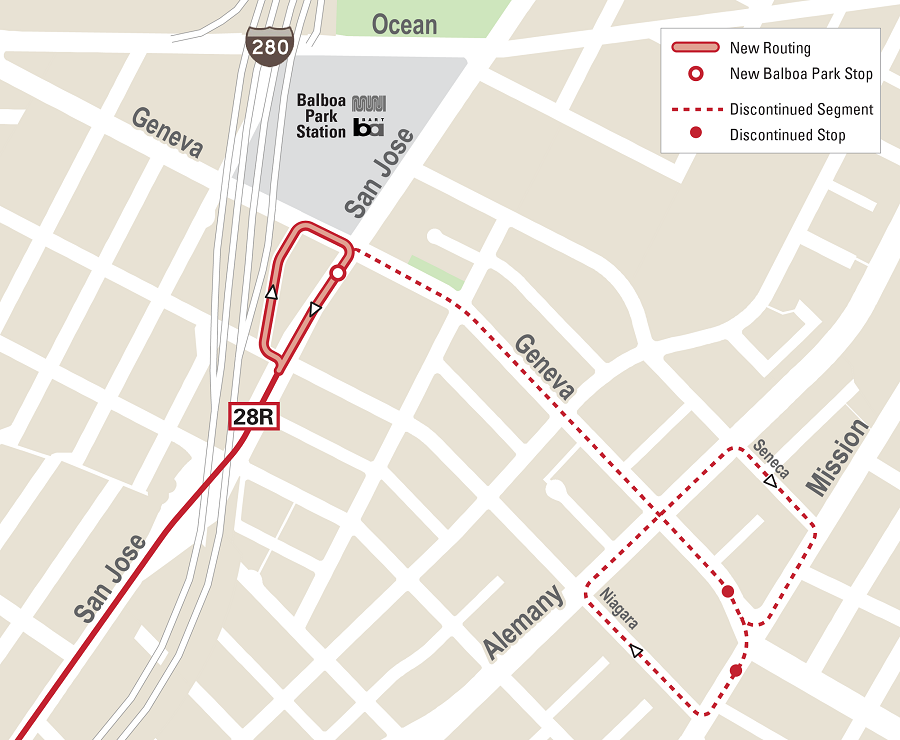 The 28R's southern terminal will temporarily be on the southwest corner of San Jose and Geneva avenues while we continue to work with the community to identify a permanent location. For Muni access between the station and Mission and Geneva, you can board the 8 Bayshore or 43 Masonic.
Since we launched improvements on the 28R last April, ridership on the route has doubled. Last April, we launched extended 28 Rapid service that runs every 10 minutes on weekdays from 7 a.m. to 7 p.m. We also modified the route to connect northwestern neighborhoods to Balboa Park Station.
Adjustments to Service Frequency on Some Routes
Service increases: We're adding service on some of our busiest routes:
These upgrades on the 8AX and 29 were recommended as part of the Muni Equity Strategy, in which we identified ways to improve service in neighborhoods with the greatest need.
Reductions to under-used service: As we fine-tune service to better match demand, a few routes with extra capacity will also see reductions in service:
Note on the F Line: In recent months we've seen issues with streetcars and buses crowding at the line's terminal at 17th and Market streets. This slight reduction in service frequency is expected to help make the line more reliable.
Stops Added, Removed and Moved
We're rolling out a handful of stop changes to make service faster and more reliable on the following lines and routes:
The initial L Taraval improvements are well underway, and more Muni Forward upgrades are coming across the city this year. Head to our Muni Forward webpage to stay updated and share questions or comments.