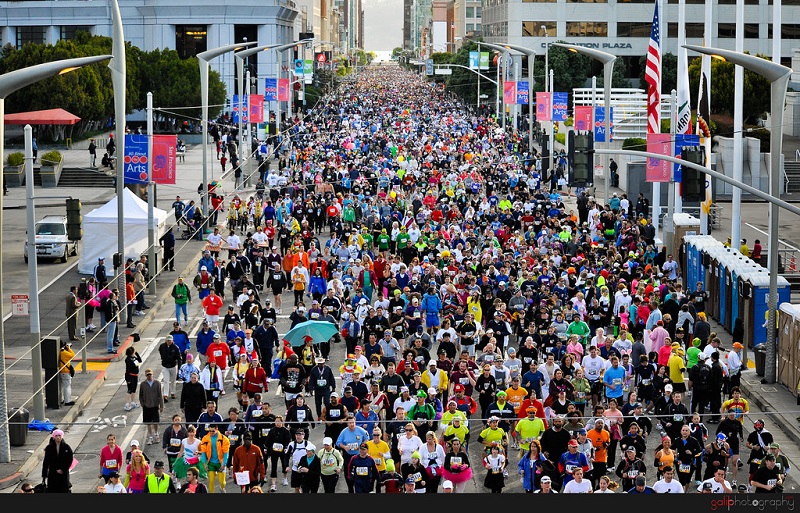 Bay to Breakers will take over the city's streets this Sunday in its uniquely San Francisco way. Photo: Galib Ahmad/Flickr
Bay to Breakers
Sunday, start time at 8 AM
From Downtown to Ocean Beach
In the wake of the devastation wrought upon San Francisco by the earthquake and subsequent fires of 1906 the city was in the midst of serious rebuilding efforts -- rebuilding the city's lost infrastructure and, as importantly, rebuilding the civic morale and spirits of its citizens. One such idea borne of this effort was the Cross City Race that took place on January 1, 1912, and has endured since that time having been run for more consecutive years over a given course and length than any other footrace in the world. The one thing that has changed, however, is the name of the race which is now known as the one and only Bay to Breakers. 
Bay to Breakers now draws participants and spectators from all corners of the globe -- it set a Guinness World Record in 1986 with 110,000 people in attendance! -- who come together to compete, cavort, and celebrate, often in creative, colorful costumes from downtown through the heart of the city all the way to the beach. Live music punctuates the course and will also help kick off the celebration at the finish line at Ocean Beach along with food, drinks, and medal presentations to race winners and finishers.
How to Get There on Muni: Participants may take the F Market and Wharves Line, any Muni Metro line or bus route that utilizes Market Street to downtown to get near the starting line at Howard and Main streets. Also available to take riders close to the starting line will be the 8 Bayshore, 10 Townsend, 12 Folsom/Pacific, 14 Mission/14R Mission Rapid or the 25 Treasure Island routes.
Muni Service Notes: There will be extra service provided on the N Judah Line as well as additional Muni Metro shuttle service. Additional service will be provided for the NX-Judah Express, 5R Fulton Rapid, 5X Fulton Express, 18 46th Avenue, 28 19th Avenue and 44 O'Shaughnessy routes. The F Market and Wharves, E Embarcadero, Metro Owl coaches, 2 Clement, 5 Fulton, 6 Haight/Parnassus, 7 Haight/Noriega, 8 Bayshore, 9 San Bruno, 10 Townsend, 12 Folsom/Pacific, 14 Mission/14R Mission Rapid, 18 46th Avenue, 19 Polk, 21 Hayes, 22 Fillmore, 24 Divisadero, 25 Treasure Island, 27 Bryant, 29 Sunset, 30 Stockton, 31 Balboa, 33 Ashbury/18th Street, 38 Geary/38R Geary Rapid, 43 Masonic, 44 O'Shaughnessy, 45 Union/Stockton, 47 Van Ness, and 49 Van Ness/Mission routes will have reroutes. Several routes will begin rerouting on Saturday evening due to event setup.
Reminder of Weekend Closures
Early Closures of Twin Peaks Tunnel: Preparatory work inside the Twin Peaks Tunnel ahead of the summer closure continues this weekend between Forest Hill and West Portal. Stations will close early on Friday and Saturday nights to provide crews extra time to work inside the tunnel. Buses will run in place of the K, L and M lines. K, L, and M subway service will resume at 9 a.m. on Saturday and at 6 a.m. on Sunday. The Twin Peaks Tunnel will be closed over the Memorial Day weekend from 11 p.m. on Friday, May 25 through Monday, May 28. Bus shuttles will provide service between Balboa Park and Church stations. Regular train service will resume with the start of morning service on Tuesday, May 29.
"On Tap" gives you a heads up about the big events in town and what Muni routes and lines will get you to the party. Look for this feature to be posted usually on Wednesdays for a look ahead to the weekend. Check out our Weekend Traffic & Transit Advisory for more details.