Event Pricing & Evening Metering
SFMTA parking meters on blocks within walking distance of Oracle Park operate from 9am to 10pm Monday to Saturday and until 6pm on special event Sundays. These meters are priced at $7/hour for events. These policies help make more parking spots available in South Beach and Mission Bay and help reduce congestion by discouraging circling for free or cheap parking near the ballpark.
| Hours of operation | Regular rates | Event rates | Time limits |
| --- | --- | --- | --- |
| Daytime 9am to 6pm* | $0.50-7.00/hour | $7/hour | 4 hours or no limit |
| Evenings 6pm to 10pm** | $0.50/hour | $7/hour | 4 hours or no limit |
*Port of San Francisco meters on the Embarcadero north of the Channel start at 7am.
**Port of San Francisco meters north of the Channel end at 11pm.
Events
Events subject to special pricing include all Giants home games, concerts or events at Oracle Park, or other events that will bring substantial traffic to the neighborhood. South Beach/Mission Bay is currently the only area in San Francisco that features special event pricing. Note: all event dates are subject to change. Always check the meter for current rates.
Demand responsive pricing
The Mission Bay area is one of the SFMTA's eight SFpark areas. Rates are adjusted based on demand around every six weeks to find the lowest rate that provides one or two open spaces per block. Rate adjustments take into account the high parking demand on event days versus non-event days.
Evening metering
Because the majority of baseball games and other events at Oracle Park take place at night, after the current 6:00pm end-time for SFMTA meters, special event rates cannot effectively manage demand unless they apply later in the evening. The SFMTA meters on event and non-event evenings in the Mission Bay area for consistency, ease of implementation, and to address increases in parking demand as the Mission Bay area rapidly grows.
Time limits
Because these meters are in an SFpark area, meters have either four-hour time limits or no time limits at all, depending on the location, regardless of evening metering or event pricing. Drivers should be sure to check the meter for time limits.
Avoiding parking tickets
Meters in Special Event Areas charge for parking until later in the evening than meters in other parts of the City. If you do not pay the meter, or you stay for longer than you paid, you may get a ticket, just like you would at any other meter during operating hours. Street signs (shown below) indicate meters on the block are subject to event rates and evening metering. Decals (also below) on the side of each meter indicate the hours of operation.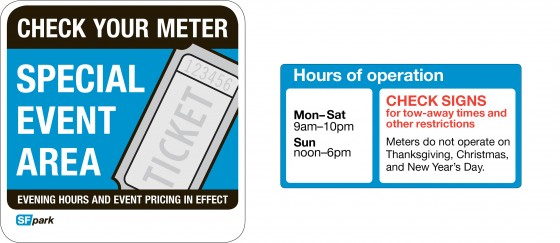 ---
SFMTA Proposes Parking Changes In Anticipation of Chase Event Center Opening
The Chase Event Center, located at 16th and 3rd Streets, is expected to open its doors in August 2019. 
The 18,000-seat Event Center could host over 200 sports and entertainment events annually, including up to 50 to 60 Warriors home games, which will start at 7:30 pm on weekdays and 5:30 pm on weekends. 
In anticipation of the opening, the SFMTA has worked with the nearby neighborhoods to develop a plan to discourage people from driving to Chase Center events and to maintain parking availability for nearby residents and businesses during events.  The SFMTA presented these plans to neighborhood associations for their feedback, including the Dogpatch Neighborhood Association (DNA), the Potrero Boosters and the Potrero Dogpatch Merchants Association (PDMA). Based on feedback received at these meetings, the SFMTA prepared a proposal for changes to the hours of parking enforcement and meter rates. 
Special event meter pricing and extended Residential Permit Parking (RPP) enforcement hours on streets surrounding Oracle Park (formerly AT&T Park), home of the San Francisco Giants, have proven effective at maintaining parking availability for residents and local business customers.  As you may have experienced during games and other events at Oracle Park, meter rates are $7 per hour during events, while RPP Area Y parking is enforced from 8 am to 10 pm every day. 
The SFMTA proposes to implement similar measures on blocks potentially impacted by the new Chase Event Center. The proposed parking changes, which are illustrated in the attached map, include:
Metered parking

The metered blocks listed below and shown on the attached map will have:

Enforcement until 10 p.m. Mon-Sat

Enforcement 4-8pm on Sundays with events

$7/hour special event rates starting an hour before events

Metered blocks affected:

7th Street between Daggett Street and Hooper Street will be enforced until 10 p.m.

Metered blocks in the Dogpatch north of 22nd Street between Indiana and Illinois Streets

16th Street between 7th and Vermont (meters already legislated, to be installed after 22-Fillmore transit improvements are completed)

New signs will be posted on special event metered blocks to inform drivers to check the meter for current rates
Residential permit parking

All Area EE blocks will be enforced Monday through Saturday until 10 p.m.

Some Area X blocks (see attached map) east of Wisconsin Street and north of 18th Street enforced Monday through Saturday until 10 p.m.

Existing time limits (1-hour or 2-hour, depending on the block) will remain the same
General time-limited parking

The 4-hour general time-limited parking will not change 

4-hour general time limits will continue to be enforced between 8 am and 6 pm, Monday through Friday 
We want to know what you think. Comments on the proposal received prior to February 25th will be considered as we prepare the final proposal.  Please send your comments to pamela.johnson@sfmta.com
In order for the modified hours of enforcement to be in place by the time the Chase Event Center holds its first events, the final proposal would need to be presented at the SFMTA Engineering Public Hearing in March, tentatively scheduled for March 8th at City Hall.  (Check the SFMTA website for actual public hearing date)
Depending on the outcome of the public hearing, the SFMTA Board of Directors could consider these changes at an April board meeting.  This will allow new signs to be ordered and installed in August or September.
We will send updates when the Public Hearing and SFMTA Board of Directors meeting dates have been finalized.
For more information about the Dogpatch Parking Plan, please visit the project website at www.sfmta.com/dogpatchparking.