Muni Expands Service, Access for Equity Neighborhoods in January
Wednesday, January 20, 2021
On Saturday, January 23, the SFMTA will restart T Third Muni Metro rail service and increase Muni bus service, including adding several routes based on community feedback.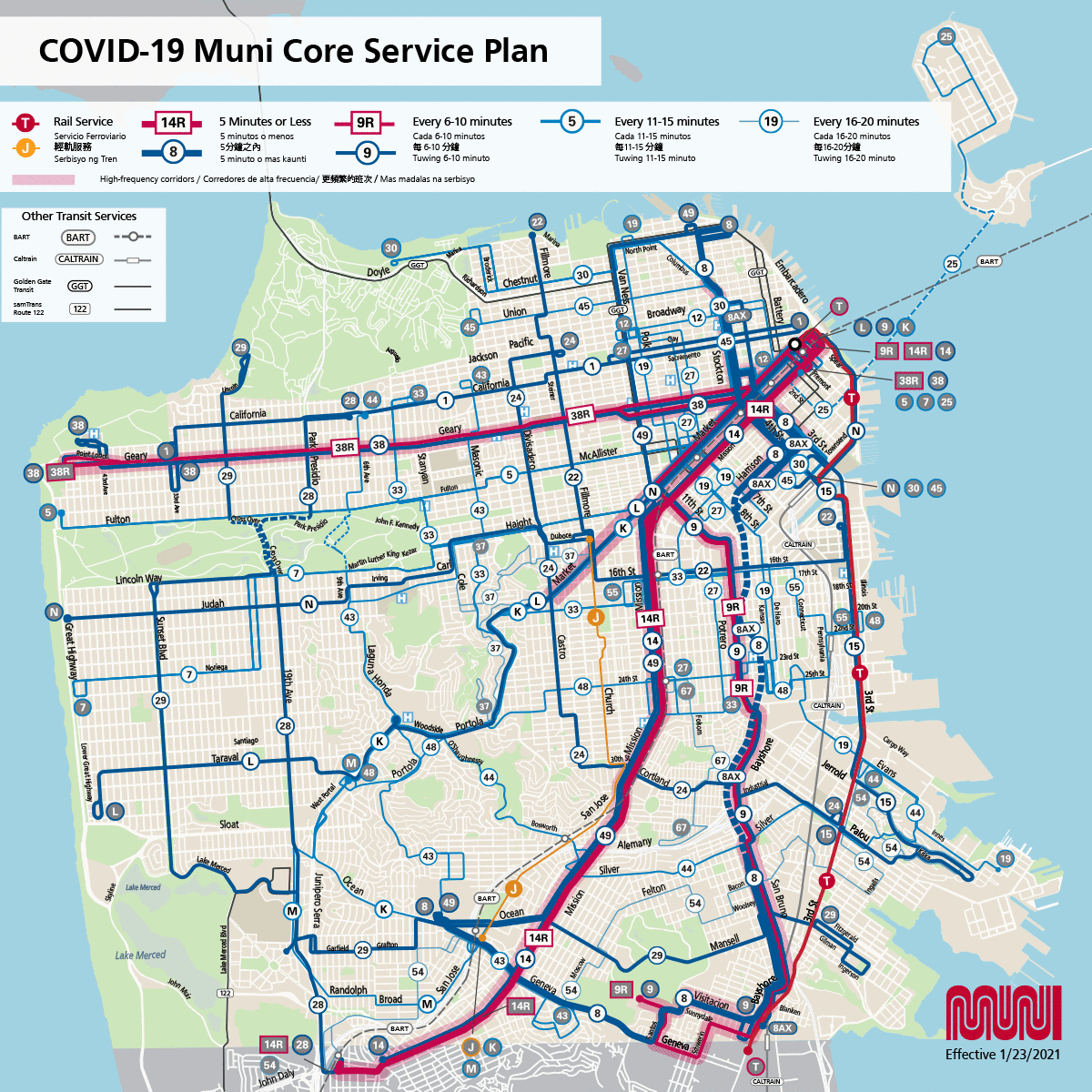 Graphic: New Core Service map, effective January 23, showing new and returning Muni lines.
Temporarily modified T Third rail service will resume between Sunnydale and Embarcadero Station. This frees up the buses currently providing the temporary T Third Street Bus service to increase bus service elsewhere. This change also brings more of our rail operators back to operating Muni Metro rail service.
Temporary changes to bus service include the return of the 27 Bryant and two new lines: the 55 Dogpatch and the 15 Bayview-Hunters Point Express. The full 33 Ashbury-18th Street line will also resume to provide another vital cross-town connection.
All of these changes are the direct result of community engagement and feedback. In particular, community members, SFMTA staff and District Supervisors worked together to develop the three new routes going into service on January 23– the15 Bayview-Hunters Point Express, 27 Bryant, and 55 Dogpatch. These new routes will not only add service to those neighborhoods but will also support San Francisco's essential workers and economic recovery.
These Muni lines increase access to essential destinations and services for communities in the Tenderloin, Bayview-Hunters Point, Potrero, and Dogpatch that depend on transit the most and are part of the Muni Service Equity Strategy. By bringing these lines into service, we expect analysis through our new Equity Toolkit to show improvements in job access via public transportation for customers in these neighborhoods.
We aim to keep phasing Muni Metro rail back into service as subway repairs continue, particularly in the Eureka Curve near Castro Station. We also continue to work on adding more service on our high-ridership lines and using available vehicles and operators to help relieve crowding.
Below is the complete list of service changes. Please note that details are subject to change. For the most up to date information with free language assistance and accessibility, please call 311 or 415.701.2311 or visit SFMTA.com/CoreService.
January 23 Muni Service Changes
All service changes below are temporary until further notice. Service hours: 5:00 a.m. to 10:00 p.m. daily, unless otherwise noted. Owl network service hours: 10:00 p.m. to 5:00 a.m. daily. Subway maintenance will be conducted evenings starting at 8:00 p.m. daily. For more information on frequency and hours of service, read more on the COVID-19 Muni Core Service Plan.
T Third Metro Rail: Service between Sunnydale and Embarcadero Station.
Service will resume on 3rd Street. Vehicles will enter Embarcadero Station, serve the station

, then turn back to Sunnydale. This allows us to provide connections to downtown and Market Street. For service along Market between Embarcadero and Castro, use Metro Buses or other Muni bus lines.

T Third customers traveling toward Sunnydale will enter Embarcadero Station from one of the Market Street portals at Drumm Street or Spear Street, go to the boarding level in the station and take the train toward Sunnydale.

T Third customers traveling into downtown San Francisco or other destination accessible via downtown will need to exit the train at Embarcadero Station and go to the street level to transfer to a Muni bus

Starting at 8:00 p.m. daily for

evening subway maintenance

, bus substitutions will provide Muni Metro service and Owl service at 10:00 p.m.

On weekends,

buses will serve the T Third from 5:00 a.m. to 8:00 a.m.

between Sunnydale and Steuart Street. Embarcadero Station opens at 8:00 a.m.
Watch this animation of how to transfer at Embarcadero Station to and from the T Third.
N Judah Bus: Longer 60-foot coaches will help address crowding on weekends and continue to provide service on weekdays.
1 California (short): Additional service between California at Presidio streets and Clay at Drumm streets, where ridership is highest.
5 Fulton (short): Additional service between Fulton at 8th Avenue and the Salesforce Transit Center, where ridership is highest.
7 Haight-Noriega: Due to limited numbers of 60-foot motor coaches, shorter 40-foot coaches will serve the 7 Haight-Noriega on weekends. 60-foot coaches will continue to provide weekday service.
8AX Bayshore "A" Express (weekdays only): Additional service on the 8AX Bayshore between Kearny Street at Pacific Avenue and Bayshore Boulevard at Visitacion Avenue, where ridership is highest. Instead of peak hour service only, the 8AX Bayshore will be in service all day in both directions.
12 Pacific: Adjusted frequency to provide consistent service during the midday hours when ridership is high.
14 Mission: Additional service and frequency to address crowding.
14R Mission Rapid: Some 14R Mission Rapid buses will end at Mission at Lowell streets to relieve terminal congestion due to high frequency at Daly City BART Station. 
14 Mission Owl: Longer 60-foot coaches with increased frequency to address crowding.
15 Bayview-Hunters Point Express (BHPX): Community members directly shaped the design and planning of this new line to provide a faster trip between Bayview-Hunters Point and downtown. The route between Palou and 3rd streets to Market and 3rd streets via Hunters Point reflects the community's travel patterns and priorities. See more information about this new line.
22 Fillmore: Modified route and additional service to address crowding.
As part of the completion of the first phase of the

16th Street Improvement Project

, the new modified route will travel east on 16th Street and north on 3rd Street to the new terminal on Mission Bay Boulevard North.

Once the 22 Fillmore moves to serve Mission Bay, the new 55 Dogpatch will begin service to continue to provide bus connectivity for the Dogpatch and Potrero Hill neighborhoods. See more about the 55 Dogpatch below.
27 Bryant: The full route will go back into service with modifications in response to community feedback and engagement.
To improve reliability

by using temporary emergency transit lanes

, the route will be modified to travel southbound on 8th Street between Market and Harrison streets and northbound on 7th Street between Market and Folsom streets. The temporary emergency transit lanes are restricted for Muni service only so they can keep buses moving even if there is traffic congestion, which helps manage crowding.

The reroute will maintain access to BART and Muni Metro and will provide a connection to new destinations like FoodsCo on Folsom at 14th Street.

Over the next few months, SFMTA staff will ask for feedback from community members and evaluate the performance of the 27 Bryant on this temporary modified route.
30 Stockton (short): A short line between Caltrain and Van Ness Avenue at North Point Street will add service in segments of the line that consistently experiences crowding. The route will travel south on 4th Street, west on Harrison Street, south on 5th Street, then east on Townsend Street to its terminal.
33 Ashbury/18th Street: The full route will return to service as a trolley coach in response to customer feedback about cross-town connections that the route provides to a number of medical facilities.
37 Corbett: The regular route will come back between Parkridge Drive at Burnett Avenue and Masonic Avenue at Haight Street.
38 Geary: Increased frequency on weekdays and weekends to address crowding. 
43 Masonic: The route will be extended slightly to connect to the 1 California on California Street at Masonic Avenue while maintaining the same number of bus resources.
55 Dogpatch: The former 55 16th Street will become the 55 Dogpatch, a modified route between 16th and Mission streets and 20th and 3rd streets to replace the eastern segment of the 22 Fillmore modified route to Mission Bay. This route was developed with community members from the Dogpatch and Potrero Hill neighborhoods. Visit SFMTA.com/55Dogpatch for more information.